How to Set Up an Office at Home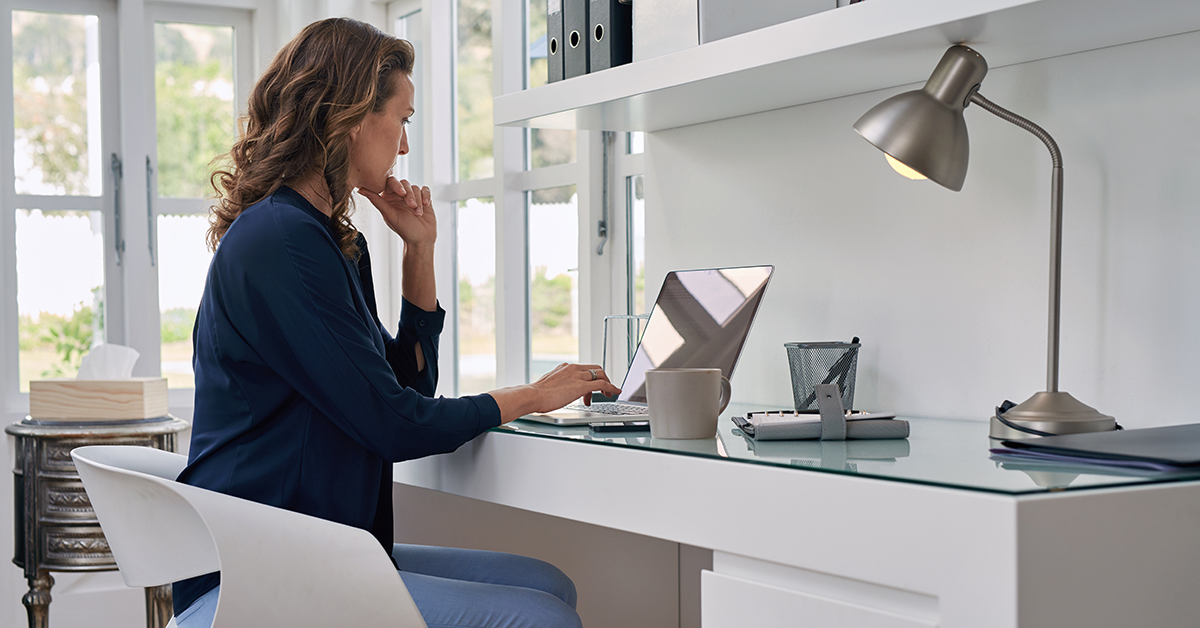 Since the World Health Organization declared the rapidly spreading Covid-19 outbreak a pandemic, more and more companies have taken proactive, precautionary measures and asked their employees to work from home. But how can you set up an office at home that will allow you to stay productive?

When working from home, temptations are everywhere and take many forms, giving you plenty of excuses to get distracted. That is why it is essential to arrange a dedicated working space conducive to concentration that will help you remain focussed and productive.
Where to set up your home office
While it can be tempting to choose to work from your bed or even your couch, try to scratch this option as it won't help you get into the right mindset. To make sure you can do your job and perform, you will need to create an environment that encourages that. In other words, you will need to sit at a desk and be free of distractions, just like you would in the office.

If you have a study or an extra room dedicated to your home office, fitting the space won't be rocket science. It gets trickier if you need to set up your workspace in a room that also serves other purposes, like the living room or your bedroom.

For more discretion, try to set up your working area in a corner. This way, you will make sure it won't take over the room and becomes the central focus. Prefer a spot near an opening to make the most of natural light, ideal for working in good conditions. Another element to take into account is the location of electrical outlets, as you will want to be able to plug at least your laptop and a lamp table.

Whether the room is large or small, you probably won't want your home office to draw too much attention. For harmony, choose a desk in the same style and material as the rest of the room. To make it blend in any décor, opt for a hybrid piece of furniture. For example, a dressing table or a console can also be used as a desk.


Organising your workspace
A clean desk allows a clear mind, so keep your working space tidy and well organised at all times. For most people, this is key to guarantee productivity and creativity. It is also a way to make sure your home office won't ruin the efforts you put into your interior design.

To avoid the clutter on your desk and free up space, use multiple decorative storage. Think desk organisers, boxes, magazine racks, etc. Make the most of drawers as they are perfect for hiding the mess. Also, use the available space on the walls to the maximum. Shelves, letter board, pegboard and other storage compartments will contribute to keeping the space organised.


Make your home office inviting and comfortable
To make sure your productivity stays the same, you need your working space to be inviting and comfortable. Start by investing in a quality chair, as there is a good chance you will spend most of your day sitting. For maximum comfort, say goodbye to small stools and other folding chairs. Look at dining chairs or even armchairs to find what suits you best.

Use colours in your decoration to help you work better. Certain colours are known for having a particular influence on memory, concentration, motivation and more. For example, yellow or purple can help you focus, while blue boosts creativity. Orange favours great communication and pink has a positive impact on stress. Stay away from red, a colour that can make you nervous or even angry.

Proper lighting is also crucial to create the best work conditions. To avoid being bothered by any reflection on your screen, make sure to have the windows to the sides. When choosing a lamp, be careful not to pick a bulb that is too powerful that would dazzle. Also, do not hesitate to use multiple light sources as the natural lighting will change throughout the day. This will contribute to creating a home working space where it feels good to work.


Get into the right mindset
Now that you have created your perfect workspace, all you have to do is get into the right mindset. Prepare yourself as if you were going to the office, set your working hours, take regular coffee breaks, check-in with your colleagues and manager... All these little things will set you up for success by allowing you to stay focussed and productive throughout the day.


DISCLAIMER - The information provided is for guidance and informational purposes only and does not replace independent business, legal and financial advice which we strongly recommend. Whilst the information is considered true and correct at the date of publication, changes in circumstances after the time of publication may impact the accuracy of the information provided. LJ Hooker will not accept responsibility or liability for any reliance on the blog information, including but not limited to, the accuracy, currency or completeness of any information or links.
Share