Why Sell with LJ Hooker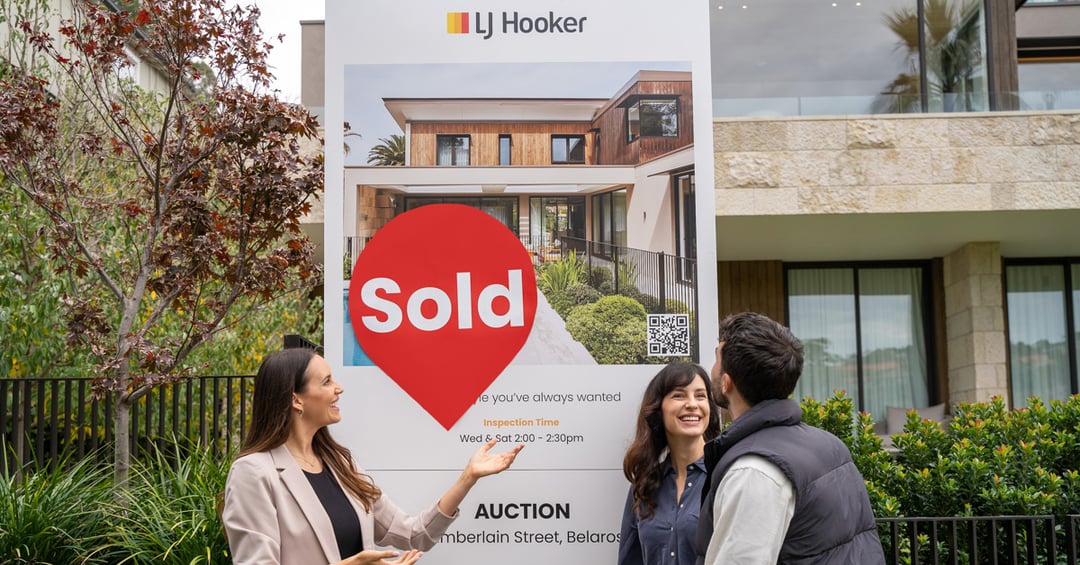 We believe it's important to choose an agency with a strong brand, a skilled team and a reputation for consistent, high-quality service.
LJ Hooker is the #1 brand in real estate
Established in 1928, LJ Hooker has grown to become Australia's best-known and most trusted real estate brand consistently ranked #1 by Newspoll and Galaxy over the past decade. LJ Hooker has repeatedly won Real Estate Business Major Network of the year, Digital Presence of the Year, and Training and Education Program of the Year, amongst others.

Our brand is synonymous with strength, reliability and innovation. For the past 25 years LJ Hooker has tracked the health of our brand through a yearly National unprompted Brandtrack survey. We are pleased to say that we continue to be the strongest real estate brand in Australia.

This means that when people think real estate more people think LJ Hooker first. So when people are thinking of buying they will see what properties we have available.

We're also proud that our website; ljhooker.com.au is the #1 agency website more people look at our website than any other agency website.
LJ Hooker - a skilled team
All LJ Hooker agents are licensed in accordance with local legislation, ensuring you get a consistently high standard of service. Our state-of-the-art technology and systematic approach to selling keeps you informed through every step of the process.

We pledge to commit ourselves to selling your property for the best possible price by using our negotiating skills, high levels of customer service and comprehensive resources to achieve a great result for you.

In addition to our guarantee of service, you can be sure that LJ Hooker will offer you honest advice and a detailed plan showing what we will do and when.

We are also part of a large network who works together. Currently we have over 600 offices in Australia, New Zealand, China, Indonesia, Papua New Guinea and Vanuatu. We have one of the largest residential and commercial sales and property management teams in the industry with more than 6,000 sales professionals, property managers and support team members.
LJ Hooker - consistent, high quality service
For the last 4 years we have surveyed all our past vendors and asked them a number of questions relating to their recent experience with LJ Hooker. We want to find out what we did right and understand what we can do to improve even more.

Our National overall satisfaction is currently sitting at 90% whilst our recommendation score is at 91% and our performance is at 94%**. We know the importance of superior service and as a group we are striving to be known as the 'Customer Experience Brand' in real estate.
Earn 20,000 Qantas Points
Appointing LJ Hooker to sell your property not only ensures that you will be dealing with highly qualified, professional and friendly specialists, but you will also be rewarded.

Customers who list and sell their residential property exclusively with LJ Hooker can also earn 20,000 Qantas Points*. We are the only real estate agency in the country that can offer this so if you are looking to sell, want the best price for your property and to be rewarded all at the same time then LJ Hooker can help!

To date LJ Hooker has awarded over 825 million Qantas Points - enough to travel around the world nearly 6,000 times!

Contact LJ Hooker and discover the benefits of choosing us to sell your property.
And what else do we offer?
Global connections through our network of International offices plus the International website portals we have partnered with to showcase properties we have for sale.

Support of local communities - Whether it's the other side of the street or the other side of the world, we have a long history of giving back to the community. In September 2016 we launched the LJ Hooker Foundation so we can take our philanthropic endeavours to a new level.

We sold more than AUD$21 billion in real estate last year. We are also one of the largest property managers in the region, managing approximately 160,000 properties totalling $100 billion for investors across Australia and New Zealand.

Home Loans through the team at LJ Hooker Home Loans.

Connections and more through LJ Hooker Assist. This is a platform designed to give you a seamless level of service that is unparalleled in the industry. We have a full range of products and services that will help make your property transaction a breeze.
Where to next?
If you are planning to sell your property, your first step should be to establish an estimated selling price - and the best way to do this is to obtain a Market Update with us.

There are a number of things that can affect the price of a home including; location, the type of property, demand in your local area and market conditions.

LJ Hooker offers a number of advantages thanks to our in-depth, comprehensive knowledge of your local market. Our no-obligation, comprehensive free Market Update appraisal service - can be booked for a time that suits you and we will provide you with a detailed report for your property.
Contact the team at LJ Hooker today we'd love to help you realise your next real estate dream.
*This is a once only, per property points allocation, with points being credited upon successful settlement of the property. The offer does not apply if the property is also listed with another agent other than LJ Hooker. To redeem points the name on the agency agreement must match the name on the Qantas Frequent Flyer membership card. If the name does not match then the points will not be transferred. The number of Qantas Points the vendor is entitled to must also be clearly stated on the agency agreement at the time of listing. If the number of Qantas Points are not agreed at the time of listing, Qantas Points will not be awarded.

^Galaxy survey 2015
**as at October 2016
Share