5 Benefits of Downsizing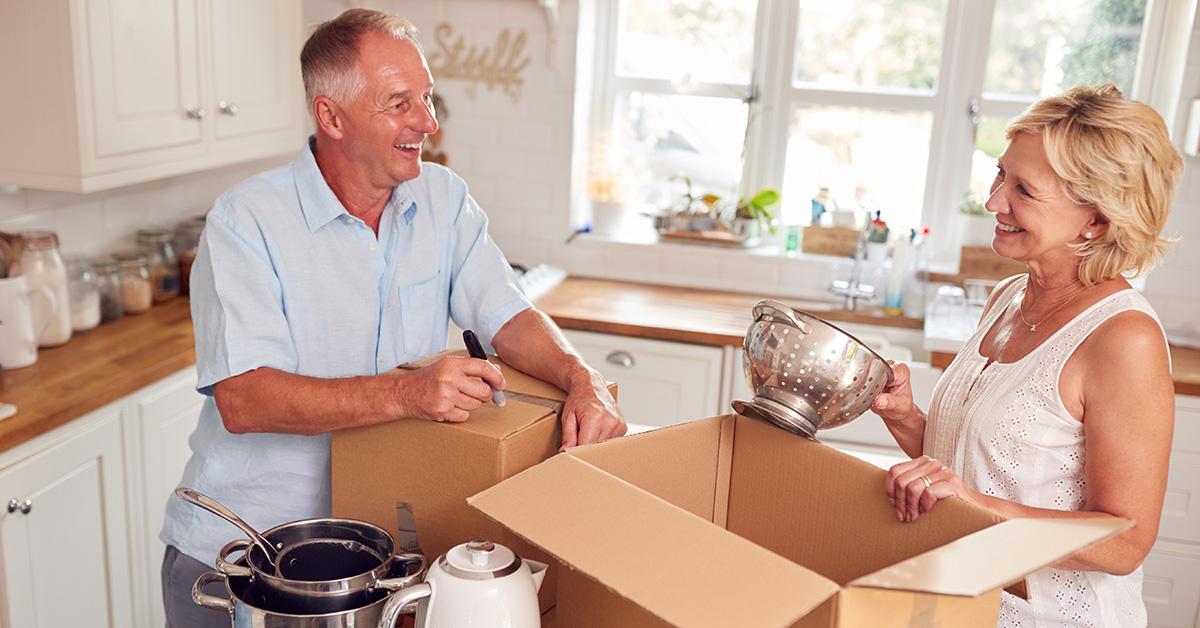 Downsizing a home sounds like an inherently stressful task. However, despite how intimidating it may sound, downsizing can actually be an incredibly beneficial process. In fact, taking the opportunity to downsize often serves as the beginning of an exciting new chapter.
While acting as a fresh start, downsizing also has tangible benefits. From reduced costs and increased free time to minimised stress, downsizing from a house to an apartment, villa, townhouse or even retirement village is a positive experience.
Deciding to make the move can be hard. However, when you finally take the leap, you can see just how beneficial it is to pack up a home and say goodbye to acreage in favour of something a little more low maintenance.


Downsizing comes with many benefits
By downsizing, you will have less responsibility, smaller workload, increased cash flow and greater flexibility which all help reduce stress. In addition, this frees you up for fun, spending time with family, getting more rest and just enjoying your home rather than being a slave to it.
The benefits of downsizing are numerous. However, before making the transition, it is important to consider the implications of such a decision. At the end of the day, swapping a large house for a smaller dwelling is an adjustment.
In essence, to enjoy the vast benefits of downsizing, you need to consider whether a smaller home will serve you and complement your lifestyle. It is no use downsizing to something smaller to save time and money if you are unhappy about losing a bedroom or living space.
Once you have decided that a smaller residence will suit your current lifestyle and future goals, you will be able to fully appreciate the benefits that come with it. You will enjoy the kind of fresh start that some can only dream about.
1. Increased cash flow
Smaller living spaces are generally less expensive. This means that instead of putting every spare dollar and cent towards a large mortgage, you can start to enjoy your hard-earned money.
2. Eliminate clutter
Moving to a smaller home gives you the opportunity to declutter. As we age, we accumulate pieces of furniture and sentimental belongings. By moving to a home that will not be able to accommodate these possessions, you are offered a clean slate.
Possessions can quickly become baggage, and without a valid reason to declutter, storage spaces just get more and more overtaken. By downsizing, you must prioritise your possessions, parting with anything that does not serve a purpose anymore.
3. More time
A smaller home means less time spent on household chores and more time for the things you are passionate about. Instead of spending time dusting shelves and vacuuming carpets, mowing lawns and watering gardens, you can now spend that time elsewhere.
This free time lets you take up new hobbies like surfing, playing tennis or joining a book club. It can also mean more time for family and friends, helping you strengthen bonds and get more enjoyment out of the simpler things in life.
4. Lower utility bills
One of the main benefits of downsizing is the fact that a smaller home will incur lower monthly costs. Instead of heating up, cooling down or powering a 4 bedroom home with multiple living zones, you are only servicing a small area.
This results in noticeable reductions in everything from energy bills to maintenance costs. In terms of monetary savings, it is also worth noting that a smaller home will also reduce insurance costs.
5. Lifestyle changes
Another one of the great benefits of downsizing is the lifestyle changes that such a move triggers. As previously mentioned, downsizing gives you more time to spend on the things you love. It also offers more freedom when it comes to weekend getaways or long holidays.
Instead of worrying about finding someone to take care of the garden and the house in general, those who have downsized can lock up their apartment or townhouse and go on holiday with minimal fuss and hassle.


How LJ Hooker can help your downsizing journey
The benefits of downsizing are undeniable. So, while making the initial decision to move from a house to an apartment or townhouse may sound intimidating, the process is not really that difficult.
Our team at LJ Hooker is ready to assist you, so you can get the most out of downsizing. We offer the kind of experience and expert market knowledge that helps make the buying and selling process as seamless as possible.
Voted Australia's number one real estate brand, a little help from the team at LJ Hooker can be invaluable when it comes time to downsize your home. Download our downsizing eBook, or contact the team today to begin this exciting new chapter.


DISCLAIMER - The information provided is for guidance and informational purposes only and does not replace independent business, legal and financial advice which we strongly recommend. Whilst the information is considered true and correct at the date of publication, changes in circumstances after the time of publication may impact the accuracy of the information provided. LJ Hooker will not accept responsibility or liability for any reliance on the blog information, including but not limited to, the accuracy, currency or completeness of any information or links.
Share