Preparing Your House for an Open for Inspection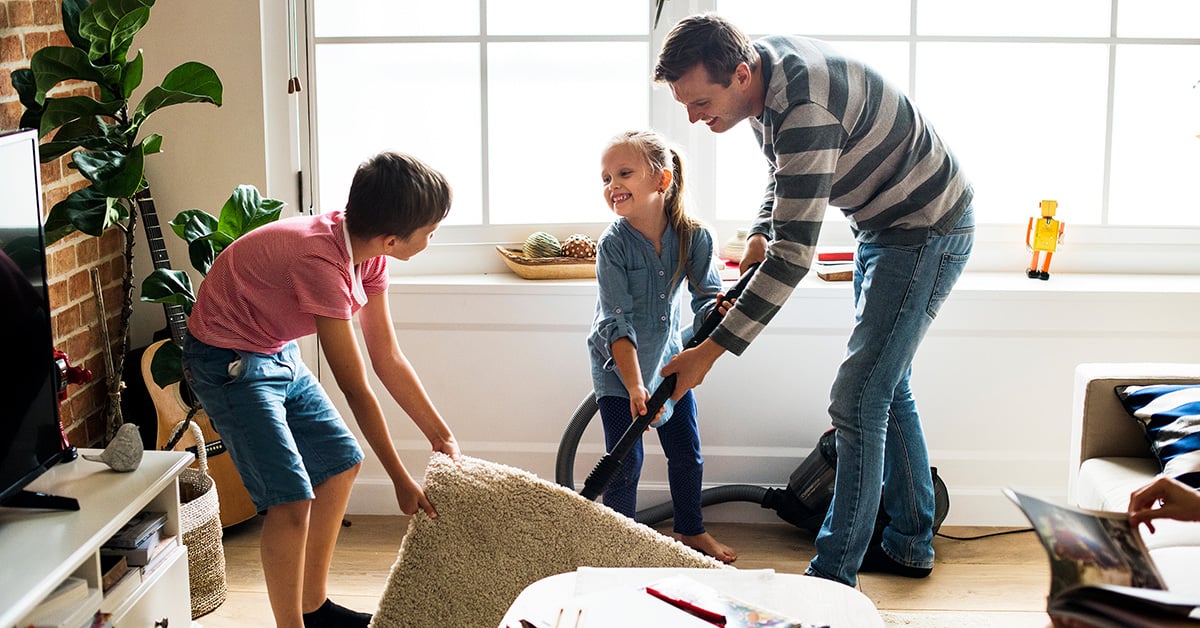 When selling your home, first impressions count. Spending a little bit of time and energy to ensure your property is presented in the best possible light can go a long way in attracting more potential buyers, achieving a higher sales price and selling in a quicker timeframe.

But where should you focus your attention? The list of to-do jobs can seem endless when preparing your home to go on the market. There are some key areas, however, that are more likely to win over prospective house-hunters.

Here's our easy-to-follow checklist to guide you on how to best prepare your property for inspection.
Maximise your curb appeal
Many buyers do a 'drive past' of a property they are interested in before deciding whether an inspection is worthwhile. They will make a quick judgement based on what they see – so don't give them excuses not to return. Making a good first impression starts right at the kerb. If you are unsure, park your car out the front of your home and look at it from a buyer's perspective. Would it entice you inside?
Here are some simple jobs to do now to help enhance your curb appeal:
Make sure your property's number is clearly visible from the street
Ensure your outside light bulbs are working
High-pressure pavements to remove any grime or dirt
Paint the fence if it is looking a bit scruffy. It can also work if you paint one feature of your home a bright colour. For example, the front door, letterbox or fence. Something to grab the eye but not enough to dominate the view of your home.
Tidy up the front garden – keep it neat and trim, weed your garden beds, remove dead plants, mow lawns – and yes, this also includes even the strip out the front of your home.
Style the front garden – this doesn't have to mean professional landscaping but just a simple makeover. Define flower beds with small shrubs or grasses and add some timber borders. Add a few larger plants as focal points but keep them in proportion to the size of your garden.
Keep all garbage bins out of sight
Clean the entire property
Getting your property ready for a home inspection means rolling up your sleeves and getting everything sparkling clean. The end goal is to make someone else fall in love with your home, just as you once did. Preparing your home for sale means going from room to room and ensuring every surface gleams and is tidy. If you are time-poor, hiring a professional cleaner to at least get you started can be a worthwhile investment.
Clean all your windows and window frames
Remove any cobwebs including those high on the ceiling
Wipe down and dust every surface you can reach
Clean the inside of your cupboards…yes the inside!
Remove all grime, animal hair, mould, dust…anything that shouldn't be there.
Repair obvious problems
You may have been ignoring that squeaky front gate or cracked window for a while, but chances are they won't be missed by a potential buyer. Now is the time to tackle any small jobs as you prepare your home for inspection – but be realistic about your skill sets. If the task is outside of your comfort zone, it is better to call in a professional rather than make a costly mistake. The last thing you will want is any problem that will slow down getting your home on the market.
Some jobs that might need your quick attention include:
Replacing any broken tiles
Re-grouting around tiles
Fix any leaky taps
Patch any holes in the walls
Fix any doors that don't swing easily
Resurface or paint over chipped or stained surfaces
Replace cracked glass or mirrors
Fix the front gate if it doesn't open properly
Replace any burnt-out light bulbs


Your LJ Hooker agent will be able to put you in touch with local tradies if you need some assistance. They will also be able to advise on what jobs you should be prioritising.
Depersonalise and declutter
You want buyers to fall in love with your house, to be able to picture themselves cooking in your kitchen, entertaining friends at the table relaxing in the bedroom. To make this possible, you need to make sure your property isn't overflowing with your personal items. This means decluttering which will allow you to showcase your home's features and make each room look its best.
Pack away the family photographs and personal treasures
Retain only just enough ornaments to ensure it looks lived in and welcoming
Makes sure all ornaments on shelves, bedside tables and in the bathroom are displayed neatly in small groups
Arrange the furniture so that it looks stylish and allows people to move around the property easily
Make sure cushions are nicely placed on sofas and puffed up
Ensure rugs are lying correctly
Make the beds every day to perfection – think hospital corners!

Hiring a home stylist can make a massive difference to how your property looks at inspection time. It doesn't have to mean packing up all your possessions. A stylist may be able to utilise the furniture you already own and just add some soft furnishings and artwork. Speak to your LJ Hooker agent about finding a professional stylist who can work within your budget.
Maximise the light and air
How nice is it to walk into an airy and light-filled space? When preparing your home for open inspection it is important to draw in as much natural light as possible adding to a feeling of freshness. Here are a few simple ways this can be achieved such as:
Remove heavy drapes or blinds if they are reducing the light
Open all blinds, curtains and shutters
Air out your home for at least an hour before the inspection, so it feels fresh
Add some potted plants around your interior
Put some freshly cut flowers in a vase
Boost the appeal of key areas
Make sure your property is attractive to as many buyers as possible. Walk through your home and think about what made you fall in love with it in the first place. Potential purchasers need to feel an emotional connection as soon as they walk through the front door, so be sure to focus on key areas.
Living room
Buyers like large living areas, so be sure to reduce the clutter and maximise the space. Less is best, so relocate any bulky or dark furniture which doesn't enhance the space.
Reposition your furniture to make it easy to move through the space – flow is important
Add a coffee or side table and style
Have carpets professionally cleaned
Kitchen
The kitchen is one room that can make or break a sale. It's usually the most expensive room in any property, make sure it looks functional. Here are some quick fixes to help make your kitchen shine:
Clear the clutter – if you have more on your kitchen benches than in the cupboards you need to clear it away
Update everyday appliances with a new kettle and toaster
Ensure oven, cooktop and dishwasher are all in working order
If you have time and feel the bench top or cupboard doors need replacing, this can be done easily and economically
Bathrooms
Buyers today like bathrooms to be a relaxing retreat – somewhere they can pamper themselves. This doesn't have to be an expensive renovation, instead make the most of what you already have with some simple updates.
Clean your tiles and grouting, and make sure your windows, mirrors and shower screens are spotless and free of streaks.
Liquid pump soap means less mess, instead of a bar of soap
Fix the fittings – cracked basins, toilets or tubs give the impression the room is unhygienic, so consider replacing these if you have the time before the open home. (This is not that expensive, provided you don't change the plumbing)
Clear the clutter off the top of the vanity – only leave out a soap and possibly a candle or small pot plant
Quality new towels are a wonderful way to freshen up the space
Bedrooms
Bedrooms need to be presented as neat, tidy and as spacious as possible.
Invest in new linen and matching bedside lamps

Declutter wardrobes to show off the amount of storage on offer

Be sure to empty linen baskets and bins
The garden
You don't necessarily need to do a big landscaping job on your garden, and you probably don't have time anyway, but before the first open home, spend a few hours on the weekend sprucing the garden up. It can pay dividends in the long run with buyers.
Australians also love to entertain – so highlight the opportunity to enjoy a meal or relax outdoors. Even if your balcony is tiny, adding a small table and chair makes the space functional.
Weed all the garden beds
Sweep the front path
Mow the lawn and keep it mowed throughout the marketing campaign
Prune shrubs and trees into shape
Make sure you water any newly planted shrubs or plants
Put garden tools away / out of site
Ensure all kids' play equipment is clean and tidy
If you have a pet make sure you hide their food bowls and toys and make sure there is nothing 'yukky' on the lawn.
Book a free expert property appraisal with your local LJ Hooker real estate agent to get an idea of how much your home is worth, and get help from experts in the industry with over 90 years of experience. Your LJ Hooker agent will be able to share home inspection preparation tips with you. They can help to devise a plan to ensure your property is in tip-top condition when it comes time to list on the market.
DISCLAIMER - The information provided is for guidance and informational purposes only and does not replace independent business, legal and financial advice which we strongly recommend. Whilst the information is considered true and correct at the date of publication, changes in circumstances after the time of publication may impact the accuracy of the information provided. LJ Hooker will not accept responsibility or liability for any reliance on the blog information, including but not limited to, the accuracy, currency or completeness of any information or links.
Get started on selling your home with a free property appraisal from LJ Hooker
Book an appraisal
Share