8 Ways to Decorate Your Rental Without Breaking the Rules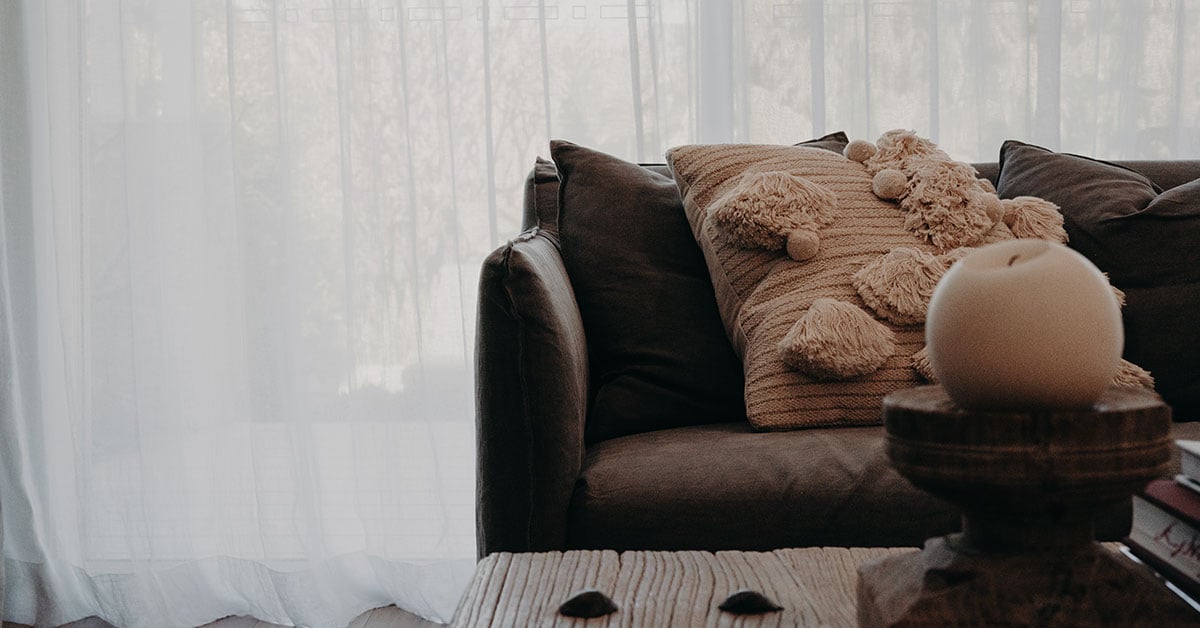 We are constantly bombarded with home renovating shows, fabulous blogs, and websites filled with images of beautiful homes and home decorating ideas. Needless to say that if you're a renter, that's when it hits you…home ownership envy!
If you're renting, you are already aware that you are limited in your design choices. But that doesn't mean there aren't ways to personalise your home and make it feel like your own.

Here are 8 ideas to help make your rental your home without getting in trouble:
1. Refresh the window treatment
Not liking those outdated plastic vertical blinds? Consider replacing them with new venetians, cordless blinds or curtains. But remember – don't chuck out the old blinds as you'll need to reinstall them when the time comes to leave. And of course, make sure you don't make any new holes in the wall when installing your new window treatment.
If you have your heart set on shutters it may be worth approaching your agent and asking whether the landlord would be prepared to go halves with you to install the shutters. You get to enjoy them while you are there, and they get to keep them when you leave. This is a great win/win situation.
2. Add some green living
Plants and flowers give an instant lift to any space – so add them to your kitchen and living room to brighten these communal spaces and boost the mood of you, your family, and your guests. It's clichéd to say that plants bring life to a room but it's true! Plus they have the added bonus of helping to clean the air and remove toxins. Cleaning the air and revitalising your rental with indoor plants and flowers is a nice feeling, especially if loads of other people have lived there before you.
Don't just limit your plants to the living room, add them to your bathroom too. Many plants, like cactuses, love the climate of a warm room and thrive in bathroom spaces. Adding indoor jungle plants can also help bring nature inside if you have limited or zero outdoor space. It's also about bringing in new textures and colours to your home interior and can add intrigue to a blank or unusable space like a room corner.
3. Decorate the walls
Peel and stick vinyl stickers, called decals, are super popular at the moment and can be found in loads of home improvement stores and online. They come in all different colours and designs and are relatively inexpensive. They can be easily added and removed and are a great way to add detail to your wall without damaging the paint underneath.
Another trick is to use removable wallpaper to create a feature wall. Made out of self-adhesive wall sticker fabric, it looks and feels like traditional wallpaper but you can easily DIY it as it requires no glue, no water, and no tradesperson. Then when it is time to move, the removable wallpaper will peel off without leaving any residue or damaging the surface – making it a landlord-friendly option.
4. Storage
Many rental properties lack storage which can make your home feel cluttered and messy. A good idea is to add furniture or accessories that can help with storage as well as make a statement.
Some storage solutions for renters include:
A television cabinet with added storage for electronics, accessories, DVDs and knick-knacks
A coffee table with a lid and storage inside to place items that you don't use a lot
A free-standing bookshelf to help balance decoration with storage
Portable clothes racks or freestanding wardrobes to place your clothes or to even double as pantry storage
Under-bed storage boxes to store personal items discreetly
Use suitcases as storage for clothes or other items
An old trunk or chest to double as both a storage unit and coffee table
5. Add some artwork
Most landlords are not keen on their tenants drilling holes in the walls. One way around this is to use removable, self-adhesive hooks to hang your favourite piece or macrame wall hanging. Just check what weight they can hold as they do vary.
If you're renting an older property you may be lucky enough to have picture rails. This idea has been around since the 15th century, but it enables you to hang pictures from a moveable hook that can hold substantial weight and doesn't damage the wall's surface. Keep in mind heavy items may require 2 hooks. Of course, fireplace mantels are also a good spot to display artwork, candles, a plant and some personal knick-knacks.
If you can't hang anything on the walls, consider decorating from the floor up. A large mirror works well leaning against the wall, as do large canvas prints. Another unique way to display artwork and add intrigue to your rental space is by using an old ladder adorned with colourful scarves, bags and rugs – looks great and provides another handy storage solution!
6. Add some personal flooring
If your rental's flooring is ugly and your landlord isn't keen to fix it, a good way to improve the look is to add a large neutral rug to cover the space and then add some colour and texture with layered rugs on top. A runner in a hallway can change the whole feel of an entryway and is relatively inexpensive. Some other temporary floor options for renters include:
Peel and stick carpet tiles
Vinyl sheets/rolls (these come in wood-look, stone-look, ceramic-look and decorative sheets so you can have a cost-effective, renter-friendly floor solution in no time at all!)
Waterproof vinyl planks. These can be laid over carpet regardless of the pile height. Simply snap and lock together.
Laminate planks
Foam tiles. These are a great solution for highly-trafficked wooden floors and can also be laid over the carpet or hard surface floors to add extra padding in a workout room/home gym or yoga studio.
Composite decking. You might have an outdoor patio space that has seen better days. This temporary outdoor flooring option is great for refreshing an outdoor space whether it's a patio, deck or balcony.
7. Add a vignette
A what?! I hear you say. A vignette is a grouping of objects. It is usually made up of homewares such as a vase or bowl, some flowers and other natural elements, mementos and arts & crafts. They help to add personality to a space and bring it to life. So find your favourite things that you have collected over the years and group them together to create a little display. These work well in the living room, on a dining table, in a bathroom and in your bedroom.
Some tips for creating a vignette:
Create a theme. If you live in a beachy area, for example, create a little beachy display on your shelf or mantlepiece with objects such as sea shells, bottles filled with sand and beachy-themed figurines.
Build your vignette around a light source such as on a windowsill or beneath a lamp. Otherwise, you won't be able to see your display clearly.
Use colour and different heights for a temporary art display. For example, a bright orange vase grouped with a stack of old books and a potted plant.
Place your vignette in a display tray and use it as a table centrepiece.
8. Upgrade the light fixtures
Rentals often come with some very ugly lighting! And while it is probably not practical to change all the light fittings, spending some time and money upgrading those light fixtures in high-traffic rooms can make a big difference. If you have bare bulbs or ugly pendants, an easy way to refresh these is to replace the shades. Don't throw anything away, as upon leaving, you might be asked to "make good" and restore the property back to the same condition as when you moved in.
Table lamps positioned in a hall or on a side table can create a homely feel and add some character and personality to your space. Large floor lamps can also make a statement while adding sufficient lighting to a dark space. You might even opt for a bold lampshade that ties into the colour of artwork in the room. In bedrooms or outdoor patio areas, hanging string lights or fairy lights is another effective lighting solution that beautifies a room on a budget.
A word or warning
Before you think "Yipee, I can go crazy with home improvements!", remember that a standard tenancy agreement usually prevents any renovations, alterations or additions to the premises without the landlord's written consent. If you are wanting to do something drastic like paint a wall or change the flooring, make sure to contact your agent to find out what your options are here before you do anything.
DISCLAIMER - The information provided is for guidance and informational purposes only and does not replace independent business, legal and financial advice which we strongly recommend. Whilst the information is considered true and correct at the date of publication, changes in circumstances after the time of publication may impact the accuracy of the information provided. LJ Hooker will not accept responsibility or liability for any reliance on the blog information, including but not limited to, the accuracy, currency or completeness of any information or links.
Share