How to Maximise Natural Light in Your Home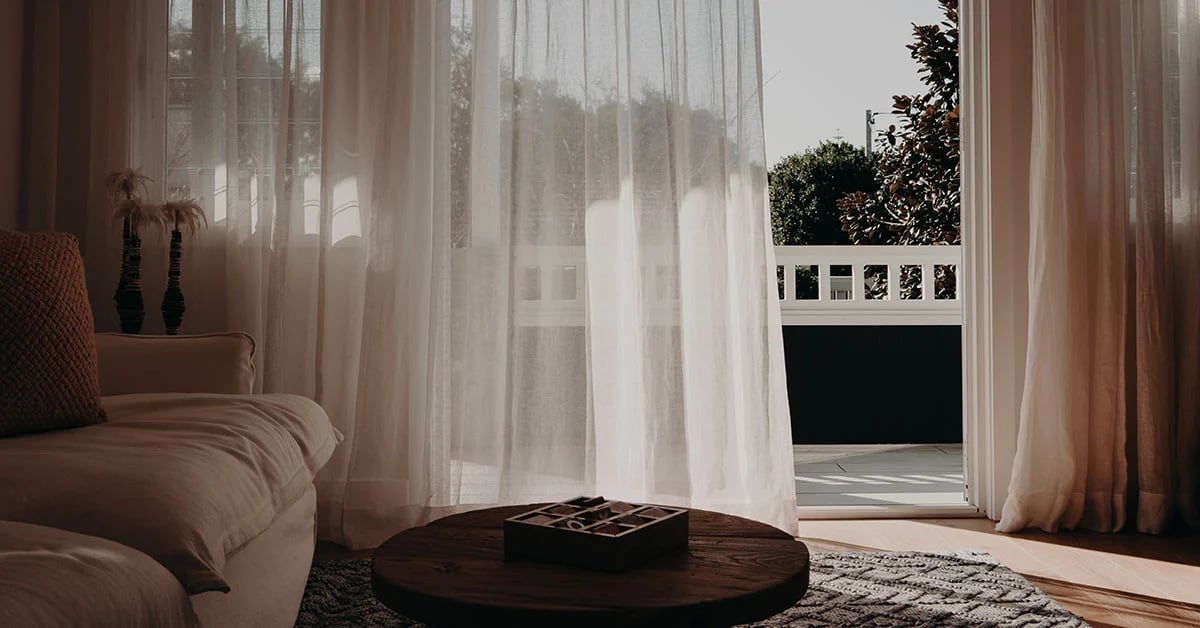 Having natural light indoors not only saves on electricity bills but also helps to create a more warm and inviting home. If you are like most people - especially over the past couple of years with the pandemic and lockdown rules - you spend the majority of your time indoors.
Whether you work from home or it's particularly hot or cold outside, it's nice to have a home with natural sources of light for when you find yourself stuck indoors. Natural lighting allows spaces to be brighter, providing much-needed illumination and warmth all the while promoting better health for you and your family and the potential of increasing your home value.
Find out more about the benefits of natural lighting and how to improve natural lighting in a room, below.
The sources of natural lighting
Effective sources of natural lighting in a home will emit diffused natural light as opposed to attracting direct sunlight on surfaces or into your eyes. Natural lighting indoors comes from three sources:
Direct sunlight: Direct sunlight or bright light refers to sunlight in which the path of light from the sun to your space is a straight line.
External reflection: Light reflecting off the ground or surfaces, adjacent buildings, shelves, and windowsills is referred to as external reflection. Excessive external reflection in a home is undesirable as it causes glare.
Internal reflection: Light reflecting off of internal walls, mirrors, and glossy surfaces around a room is known as internal reflection.
The benefits of natural lighting in a home
Embracing natural light in your home can provide numerous benefits for your home and your overall health. Here are just some of the reasons why you should bring more natural light into your house:
Saves energy and money
One of the most obvious benefits of natural lighting is that it can reduce energy consumption and the costs associated. Having a space that is well-lit with natural light means that your house retains more heat and brightens a room without the need for electricity, saving you precious dollars on bills come times like winter!
Increases focus and concentration
Being exposed to natural light in the morning and late afternoon has been shown to increase concentration and focus. A naturally lit space will help you to be more productive (great for those working from home) and gives you more energy to perform daily tasks.
Keeps you healthy
The natural lighting provides numerous health benefits. Research has shown that exposure to natural daylight can reduce blood pressure, boost the immune system, reduce eye strain and vision problems brought on by artificial light sources, and increase vitamin d levels for healthy bones and muscles.
Gives the illusion of a bigger, cleaner space
If you have a smaller home/apartment or living area, encouraging more natural light inside can give off the illusion of more space. This effect is amplified by the presence of light-coloured furnishings and decor along with reflective surfaces such as mirrors and polished benchtops.
Adds to your home value
Ample windows and natural sunlight can increase the value of your home. Increased natural light makes a home, apartment or rental space appear bigger and more open. When buyers come to view your home, a bright and inviting space is more likely to catch their eye than a cold, dimly lit space. If you have beautiful natural views, windows and natural lighting can be the biggest selling point of all.
Improves sleep
Exposure to natural sunlight helps regulate the hormones responsible for our circadian rhythm. Studies have shown that getting more sunlight during the day helps to improve sleep and sleep quality of a night. So not only is your home benefitting from a visual perspective, but you can actually feel the benefits of maximising the natural light within your space.
How to add and improve natural lighting in your home
If you are planning on building or renovating a home you should consider ways to maximise the natural light in each space. Not only will you reap all of the benefits outlined above, but it can increase the likelihood of selling your home if you are styling your property to sell.
Many homes were not built with natural light in mind. So if that is the case for your home and you are wondering how to bring light into a house, then follow these easy steps to creating natural lighting indoors:
Get rid of anything obstructing windows (outdoor shade blinds, furniture, heavy draperies)
Paint interior window frames and eaves white to help increase sunlight reflection
Paint interior walls and ceilings white to further reflect natural light back into your room
If you are wondering how to style your living room to attract more light, get rid of the heavy draperies. Choose blinds that let in more sunlight (such as Venetian blinds, plantation shutters, and sheer roller blinds)
Strategically place mirrors or reflective furnishings to boost internal reflection
Clean windows to allow in as much light as possible
Install ceiling skylights to bring in more consistent light in dark rooms
Consider glass blocks or mirrored splashbacks in bathrooms and kitchens
Add an indoor/outdoor living space for a year-round light-filled space to entertain family and guests in
Let LJ Hooker light the way to your new home
Natural lighting indoors has the potential to increase the resale value of a house if you are planning on selling or renovating, therefore making it a key consideration when both assessing a home's worth and attracting a bigger pool of buyers.
The team at LJ Hooker are here to assist you. Whether it is styling your home to maximise natural light or preparing your home for sale. We offer you experience alongside excellent market knowledge that helps make the property process as smooth and as successful as possible. Find an agent or book a free property appraisal for advice on how to style your home to sell making the most of natural light.
DISCLAIMER - The information provided is for guidance and informational purposes only and does not replace independent business, legal and financial advice which we strongly recommend. Whilst the information is considered true and correct at the date of publication, changes in circumstances after the time of publication may impact the accuracy of the information provided. LJ Hooker will not accept responsibility or liability for any reliance on the blog information, including but not limited to, the accuracy, currency or completeness of any information or links.
Share