How to Create a Bedside Table With Geneva Vanderzeil
Geneva Vanderzeil
| 4 mins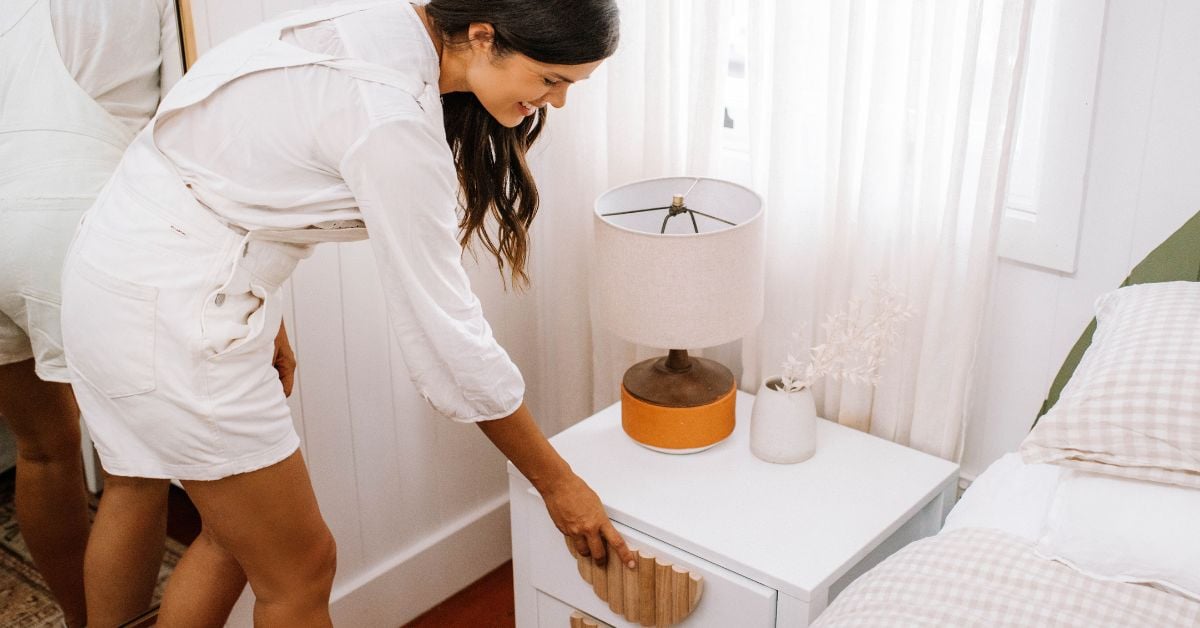 I love a quick and easy upcycle, and that's why I'm super excited to be sharing with you a really simple, upcycled bedside table.

Furniture doesn't have to be pricey. I found this bedside table from a second-hand store and it only cost me $5. I really love giving new life to old pieces, and in this case, I found one that was a definite budget-saver as well as being eco-friendly.

But it wasn't in great condition. However, even though it was well-loved and with watermarks, I could see the potential. The drawers were big enough for storing all those nick-nacks that often accumulate up by the floor of your bed, and it had enough space on top for adding a beautiful lamp and a scented candle.

As it is a very simple piece, I knew that it needed a 'statement' drawer pull. It also gave me the perfect excuse to be creative with dowels, in this case, half dowels. This is one of my all-time favourite materials because it is so versatile. You can find it at the local hardware store, and it adds a little Scandi style and a mix of textures, which is perfect for the bedroom.

Once finished, you will see how one easy project can freshen up an entire room.
What you need
To create this bedside table, you will need:
• A bedside table
• A wooden circular placemat
• Half-cut dowels
• Primer
• White paint
• Four screws
• Two small rectangular pieces of wood around 4-5cm
• A power drill
• Superglue
• Jig-saw or hand-saw

Approximate time (excluding drying time): 2 hours
Difficulty: ★★★☆☆
The bedside table project step by step
Step #1
Once you have found a bedside table, the first step is to remove the old and dated hardware. If you are using a power drill, keep the drawers in place – this will keep them steady as you unscrew the handles.
Step #2
Using some fine-grit sandpaper, smooth over the entire bedside table. This help to buff out any scratches and stains. Pull out the drawers and give them the same treatment.
Step #3
Remember, preparation is key for a great finish. The whole piece needs to be painted with primer first. Next, apply two coats of white paint and let it dry overnight.


Step #4
Grab your placemat and cut the dowel into lengths to cover it. Attach the cut pieces vertically onto the placemat with a generous amount of superglue. Let it dry overnight.
Step #5
Once it is dried, use the jig-saw to trim the dowel into a circular shape using the placemat as a guide. Cut through the centre, and now you have two drawer pulls. If you don't have a jig-saw, you can skip the dowel detail and cut a placemat in half using a hand saw. Either way, give the edges a light sanding to make sure they are smooth.
Step #6
To attach the handles to the drawers, simply screw in two pieces of wood – approximately 4-5cm – as a base into the front of the drawers. Check the spacing to ensure the drawers can still open. Then, superglue the pulls into place. You can also screw them in from the under-side.


Step #7
Once everything is dry, pop the drawers back into place. Style with an emphasis on relaxation. Choose a lamp and accessories that match your other décor. I've gone with natural and earthy colours. Add a beautiful candle and your favourite book. A small plant will add to the peaceful ambience.

I love how my bedside table looks, and it was so easy to make!

You can see this project's video here. And for more inspiration, DIY projects and styling tips, don't forget to follow our Instagram account!


DISCLAIMER - The information provided is for guidance and informational purposes only and does not replace independent business, legal and financial advice which we strongly recommend. Whilst the information is considered true and correct at the date of publication, changes in circumstances after the time of publication may impact the accuracy of the information provided. LJ Hooker will not accept responsibility or liability for any reliance on the blog information, including but not limited to, the accuracy, currency or completeness of any information or links.
Share