How to Make a Ball-Foot Coffee Table With Geneva Vanderzeil
Geneva Vanderzeil
| 3 mins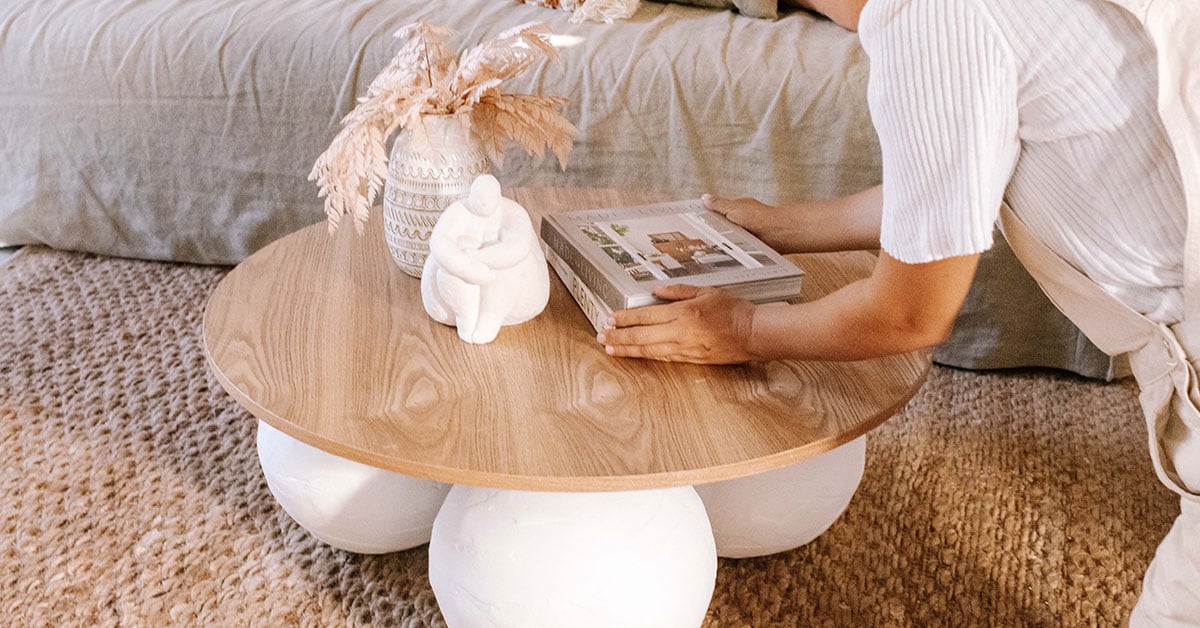 Some of my favourite projects are made from the most unexpected of materials. And for this one, we will make a super on-trend coffee table. But you will never guess what we will use!
I've been inspired by the many ball shapes which I have seen in home decor stores. So to create our base, we will use stainless steel mixing bowls!
What you need
To make this coffee table, you will need:
6 x mixing bowls (I am using some from Ikea)
Cement mix
Liquid nails
Fiberglass tape
Gyprock topping plaster
A pre-cut tabletop


Approximate time: 3 hours (excluding drying time)
Difficulty: ★★☆☆☆
The project step by step
Step #1
We need to put the bowls together to create our balls. These will make the legs for our coffee table. Start by filling up three bowls with cement powder and water - then mix.
Step #2
Before letting it set overnight, we need to attach the other bowl to create that ball shape. Use liquid nails and then place the second bowl on top. Secure it into place with tape.
Step #3
Continue using your fibreglass tape to cover the whole bowl. This will create a great surface for plastering.
Step #4
Take some gyprock topping plaster and apply over the whole ball in a thick coat. Leave it to dry for a few days. Once the balls are nice and dry, you can give them a good sand.
Step #5
Now we have our base, we can attach our tabletop. Your local hardware store should have these already pre-cut. Choose a small top for a side table or a larger one for a coffee table.
Step #6
I'm gluing small pieces of wood onto the top of the balls using liquid nails. This will lift the height of the table.
Step #7
Now it's time to glue on your tabletop. And there you go, your ball-foot coffee table is done! I've styled it with some books, an ornament and a small vase.
It is a super easy project, this is a stylish addition to any lounge room.
You can see the video of this project's step-by-step here. And for more inspiration, DIY projects and styling tips, don't forget to follow our Instagram account!
DISCLAIMER - The information provided is for guidance and informational purposes only and does not replace independent business, legal and financial advice which we strongly recommend. Whilst the information is considered true and correct at the date of publication, changes in circumstances after the time of publication may impact the accuracy of the information provided. LJ Hooker will not accept responsibility or liability for any reliance on the blog information, including but not limited to, the accuracy, currency or completeness of any information or links.
Share