How To Style a Living Room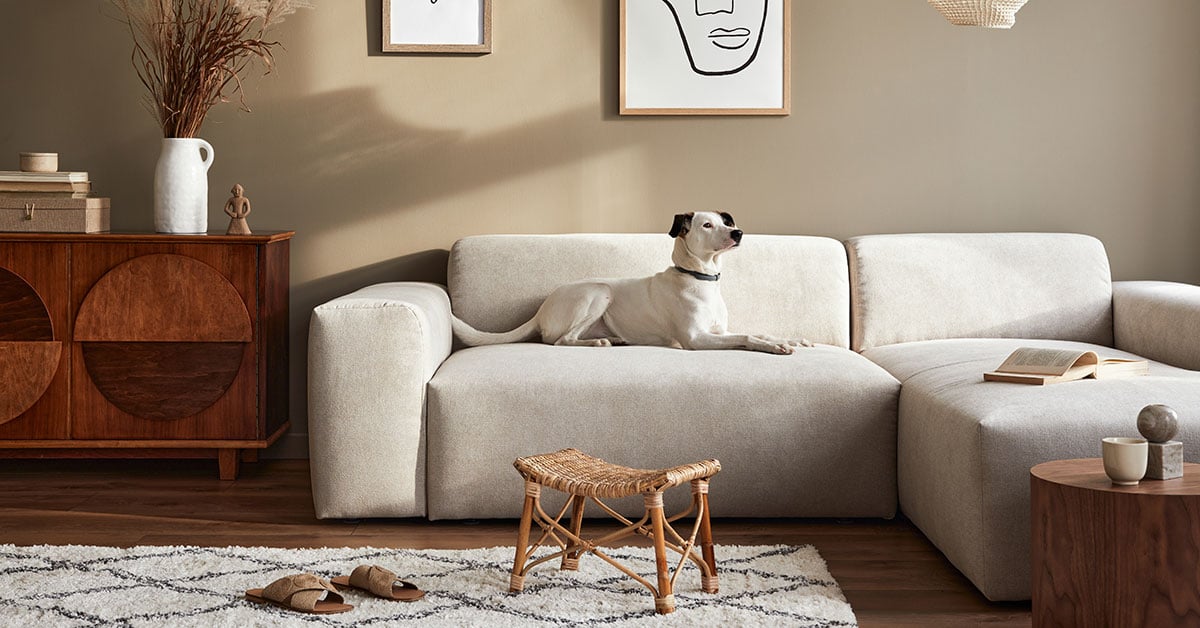 Every home needs a comfort zone. And the living room is the perfect spot to create a haven of relaxation. An area where you can kick off your shoes, curl up under a blanket and unwind in front of the telly.

But a living room also needs to be versatile so it can be used to entertain friends and family while indoors. Most importantly, regardless of its size, the space needs to be inviting. So, how to style a living room to create this perfect balance of cosiness and functionality?

Look for inspiration
Think about the atmosphere you want to create in your living room. What is its purpose? Are you somebody who loves lounging about, binge-watching your favourite TV series or would you prefer the space to be for reading and hanging out with friends?

You'll find no shortage of ideas on websites. Think about the style of your home's architecture. Do you have a mid-century modern feel happening or is your style more Hamptons? Saving images of what you like into a special folder on your phone or computer can help point you in the right direction.

However, if you are stuck for ideas, an interior designer may have some suggestions.

What do I buy first for my living room?
There are two schools of thought when it comes to decorating your living area. One theory is to start from the ground up by finding the perfect rug – this will set the colour palette.

Another idea is to start with a sofa. Sizing is crucial, so be sure to pull out the measuring tape to check your square footage before ordering. There is nothing worse than buying furniture and realising there is no way you can even get it through the front door.

How to choose a couch
Your sofa needs to be in proportion to your room, cosy but not too cramped. Don't always push furniture onto the wall, particularly if you want to create a more intimate vibe. If your living room layout allows it, moving your lounge 20cm from the wall can make the space feel more appealing. But don't forget to consider the traffic flow in your room.

A sectional can be a great option. An extra chair or two is a good idea and will add to your décor. If you are prone to eating pizza on the sofa or have kids, you might find a leather finish more durable and easier to keep clean.

How to place a rug
A new rug is a relatively inexpensive way to revitalise your living room space. Look at the existing flooring and furniture for inspiration. Should you opt for a darker or lighter shade? A bold pattern or something more neutral?

A larger rug can help tie all the elements in your room together. Use chalk or painter's tape to mark out the rug size you are considering. Some stores may even let you take the rug home to try it out before buying.

How to make a large living room feel cosy
Soft furnishings add warmth to a home. But don't go overboard; there is a fine balance between clutter and cosiness. Look for quality fabrics and a range of textures.

Choose a colour scheme and find subtle ways to incorporate it into your design. With cushions, opt for a variety of sizes and a mix of patterns. Place block colours at the back and then add some with a theme at the front. You can use a variation of tones rather than matching them perfectly.

Think about functionality too. If you are using a throw, you want to make sure it's soft enough to snuggle under. The great thing about soft furnishings is that once you tire of a look, these can be easily updated without breaking the bank.

How to style a small living room
Planning is essential when it comes to small spaces and picking room furniture. If your living room is tight, avoid cramming it with bulky items.

Keep your wall colours neutral. A light-coloured sofa and built-in storage are a good idea, as well as small decorative items. Choose furniture that can have a dual purpose, such as an ottoman that can double as an extra chair or a coffee table that offers storage.

Forget heavy drapes on the curtain. Instead, opt for something sheer and breezy, allowing for plenty of natural light.

Should you always include a coffee table?
Once a common fixture of the living room, the humble coffee table is no longer a must-have item, and side tables are also an option to consider. If not positioned correctly, a coffee table can be awkward and cumbersome.

Choose one that you will use, not something just sitting there gathering junk.

Remember the 'Rule of Three' when styling to make it visually appealing, such as three candles, vases, or books in a variety of sizes. A nest of coffee tables is handy as it instantly provides extra space for resting drinks or food when entertaining guests.


How to arrange plants in a living room
Regardless of your interior theme, every home can benefit from a few potted plants, and these are ideal for a living room. Even better, it is an effortless and affordable way of adding a little style. Add one to your coffee table or entertainment unit.

Indoor plants have also been shown to have many health benefits, such as lifting moods and reducing stress.

Start small and choose plants that go with your interior theme. For example, a golden cane palm or fiddle leaf fig will complement a coastal vibe. A cactus will suit a more boho look, while a Philodendron Pink works well in Hamptons-style homes.

How to choose the right size TV
If you love watching telly, then you'll need to find one that matches your room size. According to Samsung, measure the space between where the TV will be placed and your couch. If the viewing distance is between 1.20cm to 1.80cm, then opt for a 70.9cm (32 inches) screen. If the distance is greater, for instance, 1.52cm to 243cm, then go for an 88cm to 95cm (40 to 43 inch) screen.

Be aware the larger the TV, the more likely it will draw the eye – even when it is not switched on. Another option is to invest in a drop-down screen and projector, effectively turning the space into a media/cinema room when needed.

How to choose the right lighting
Adaptability is important in a living space so it can be enjoyed by everyone. Lighting needs to be able to switch from being bright to moodier with the flick of a switch. One way to achieve this is by using floor lamps and table lamps to soften or layer the light. A dimmer switch is a must for lighting fixtures.

Add a touch of opulence by hanging a chandelier if it matches your decor. Accent lighting can be used to highlight items on display or even artwork.
How to style a desk in a living room
Desks are a popular addition to a living room space, thanks to the trend of remote work. Choose an area that can be zoned off – such as an empty corner, blank wall or behind the couch. You can even have your workspace built into a cupboard.

Position yourself away from anything too distracting such as the TV. And ensure that you will be able to walk away from your job at the end of the day. Desk chairs are now both ergonomic and stylish. Don't forget to add a little colour to the workspace with a bright print and a pot plant or two.

Ways to add a little bit of luxury
A gas or combustion fireplace can make your living room even more inviting, particularly during the cooler months. Budget around $4,500 to $10,000 for a gas fireplace and around $2,500 for a wood-burning fireplace, including installation.

Customised cabinets are a sophisticated addition. Wall units can be personalised to suit your needs, such as shelving for books or displaying items. On average, a built-in cabinet costs around $4,500 but depends on materials.

Finish off your living room by adding artwork to your wall space. Support a local artist or even have a go at painting something yourself.

If you are still wondering how to style a living room after reading all the tips, remember that the most important aspect of creating your ideal space is to have fun. Be creative, add texture and give the area some personality. Make it a room where you want to spend some time either by yourself or with friends.
Styling to sell? Then talk to your local LJ Hooker real estate agent or book a free property appraisal to get advice on how to style your living room to help you achieve the highest selling price for your home.
DISCLAIMER - The information provided is for guidance and informational purposes only and does not replace independent business, legal and financial advice which we strongly recommend. Whilst the information is considered true and correct at the date of publication, changes in circumstances after the time of publication may impact the accuracy of the information provided. LJ Hooker will not accept responsibility or liability for any reliance on the blog information, including but not limited to, the accuracy, currency or completeness of any information or links.
Share