LJ Hooker Foundation Partners with Good360 to Support the Vulnerable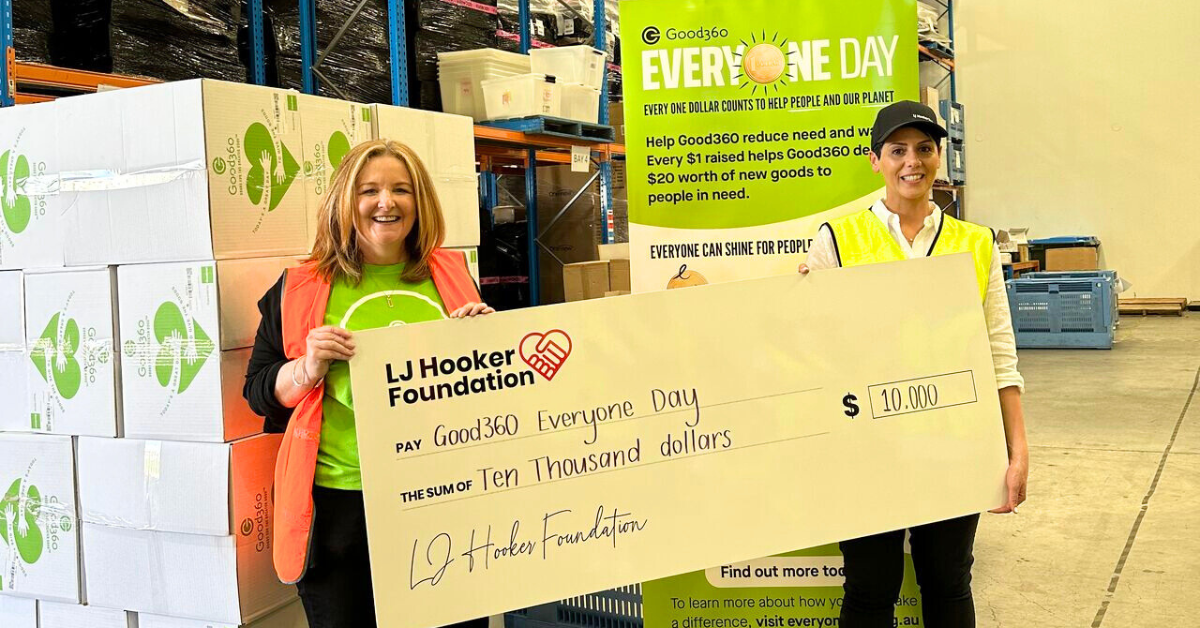 The LJ Hooker Group has announced its partnership with Good360 Australia as the LJ Hooker Foundation's third national charity beneficiary for 2023/2024.
The announcement coincides with LJ Hooker Foundation Day, which marks 95 years since the network's first office was opened on the sandy shores of Maroubra, Sydney. Last financial year, the LJ Hooker Foundation donated almost $350,000 to charities in need around Australia.
The innovative approach of Good360 connects charities, disadvantaged schools and society's most vulnerable with businesses willing to donate unsold or surplus goods, services and disaster recovery essentials.
Christine Mikhael, CEO of the LJ Hooker Group, said its national real estate network has strong connections to their communities.
"Our founder, Sir Leslie Hooker, once famously said, 'Real estate isn't about houses, it's about people', she said.
"It's these words, spoken many years ago, that resonate powerfully within our core values today: Commitment, Ambition, Responsibility and Excellence, which form the acronym CARE.
"As an expansive real estate network, we're woven into the very fabric of the communities we service around Australia.
"The LJ Hooker Foundation's partnership with Good360 will enable our offices and their teams to fundraise to support local charities, causes and disadvantaged schools that are close to their heart so they can receive the brand new goods they need."
Alison Covington AM, Good360 Australia Founder and MD, said they are thrilled with being selected as the chosen charity for the next year by the LJ Hooker Foundation.
"Support such as theirs helps us to extend our fundraising reach and connect meaningfully in communities across Australia," she said.
"As part of the partnership, LJ Hooker offices will be kicking off Good360's EveryOne Day campaign. This will see every dollar fundraised or donated help Good360 deliver $20 worth of unsold, brand-new goods to people in need like clothing, toiletries, mattresses, and furniture.
"This means that if an office in the LJ Hooker Group fundraises $1,000 a cause can secure $20,000 worth of goods through Good360.
"I'm looking forward to what we will achieve together!"
Ms Mikhael said LJ Hooker Group offices, which operate under its brands LJ Hooker or Atlas by LJ Hooker, don't just sell or manage properties; they connect people with places that will shape their futures.
"With this privilege comes a great responsibility to contribute positively to the places we serve, and I'm pleased the LJ Hooker Foundation and our network of offices will continue this commitment with Good360 Australia and our other charity partners," she said.
Good360 joins the LJ Hooker Foundation's long-term charity partners, Humpty Dumpty Foundation and Cystic Fibrosis Australia. To date, the charity has given almost $370 million worth of goods to Australians in need
Share