LJ Hooker Group Brings Excellence to the Forefront with Prestigious International Awards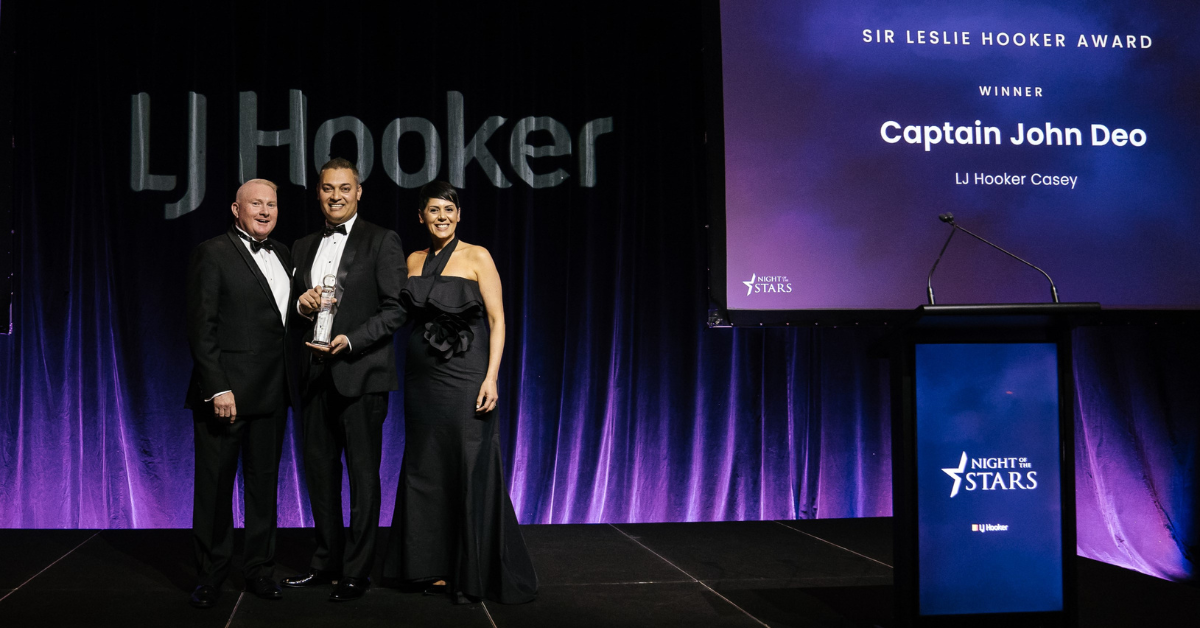 The LJ Hooker Group has recognised its top performers across Australia and New Zealand unveiling the recipients of the highly coveted Sir Leslie Hooker Award and Hall of Fame Award, concluding its international awards season for the year.

LJ Hooker Group's Chief Executive Officer Christine Mikhael said that the awards nights reflect the Group's dedication to delivering excellence and upholding the brand's heritage.

"Our people are the driving force behind our success, and we are incredibly proud of their accomplishments over the past year, particularly in what has been a challenging market," she said.

"Our Night of the Stars series not only recognises the outstanding contributions of our network across Australia and New Zealand, but also serve as an inspiration for all of us to continue striving for excellence in everything we do.

"The LJ Hooker name has become synonymous with real estate, symbolising trust and expertise – and so I thank all our award winners and nominees for upholding the highest standards and continuing to build upon the reputation of our brand.

"As we look to the year ahead, we remain committed to supporting our network of offices and ensuring their continued growth in the ever-changing real estate landscape."

The Sir Leslie Hooker Award – the most prestigious award of the season that is named in honour of the company founder – was awarded to John Deo, Principal of LJ Hooker Casey in Victoria.

The award recognises contributions of a business owner to the community, the industry, the LJ Hooker network and mentorship of team members.

"I've had the privilege of being a part of the LJ Hooker family for the past 24 years, and it's been an incredible journey. Since becoming an owner in 2010, when our small office had a 200-home rent roll and four staff, we have grown into a thriving operation with three offices, 1,300 on the rent roll, and a team of 40 dedicated professionals," Mr Deo said.

"In my role as a leader, my focus has always been on growth and mentorship.

"I'm proud to say that six agents, who started with us as newcomers, have gone on to be million-dollar agents, some even establishing their own offices. I really do believe in the saying that their success is my success.

"Receiving the Sir Leslie Hooker Award is a tremendous honour, and it's humbling to be amongst the previous winners who have achieved remarkable success and who I look up to.

"For me, this award is a testament to the incredible team around me, the joint success we've achieved, and the trust my clients place in me.

"I also want to express my heartfelt gratitude to Christine and Stephen for their unwavering support, which has been instrumental in getting me to where I am today.

"I'm also fortunate to have the support of my family. Together, we look forward to many more years of growth and success with LJ Hooker."

LJ Hooker Group's General Manager of Network, Stephen Mutton, congratulated Mr Deo on his outstanding achievement.

"John's recent recognition, receiving the highest award on offer, is well deserved and a testament to his exceptional contributions and leadership," he said.

"Working closely with John has grown into a great partnership and demonstrates the value of the franchisor and franchisee relationship. John consistently collaborates with us, providing valuable insights into the needs of today's business owners.

"His dedication has not only contributed to our brand's success but has also left an indelible mark on the industry. Throughout his tenure, he has been a leader and mentor, nurturing many top performing agents.

"We are grateful for John's commitment and know that he will continue to work hand in hand with us to further grow the brand."

During the Night of the Stars awards events, the LJ Hooker Group also announced five 'Hall of Fame' awards, comprising:

Lachlan Elder, Principal of LJ Hooker Mona Vale
John Monahan, Principal of LJ Hooker Swan Hill
Kerry Armstrong, Principal of LJ Hooker Commercial Brisbane
The late Ross Moller of LJ Hooker Edge Hill
Paul Moore, Network Performance Manager at the LJ Hooker Group

Ms Mikhael said the 'Hall of Fame' honours are awarded to those who have reached an exceptional level of achievement and length of service.

"It's an honour to welcome Lachlan, John, Kerry, and Paul into the Hall of Fame, as well as the late Ross Moller. I'd like to pay special tribute to the memory of Ross, who continues to inspire our network.

"We do not induct into the Hall of Fame every year and, this year, we welcomed five.

"These individuals have been unwavering in their commitment to achieving the best outcomes for their customers while supporting the development of their teams.

"Induction into the LJ Hooker Group's Hall of Fame is a testament to their exemplary community contributions, and we are privileged to have them as pillars of our network."

The annual Night of the Stars charity auctions raised almost $60,000 for the LJ Hooker Foundation's charity partners, which saw the events recognise high performance and a higher purpose.
Share