10 Tips For Selling Your Home in Winter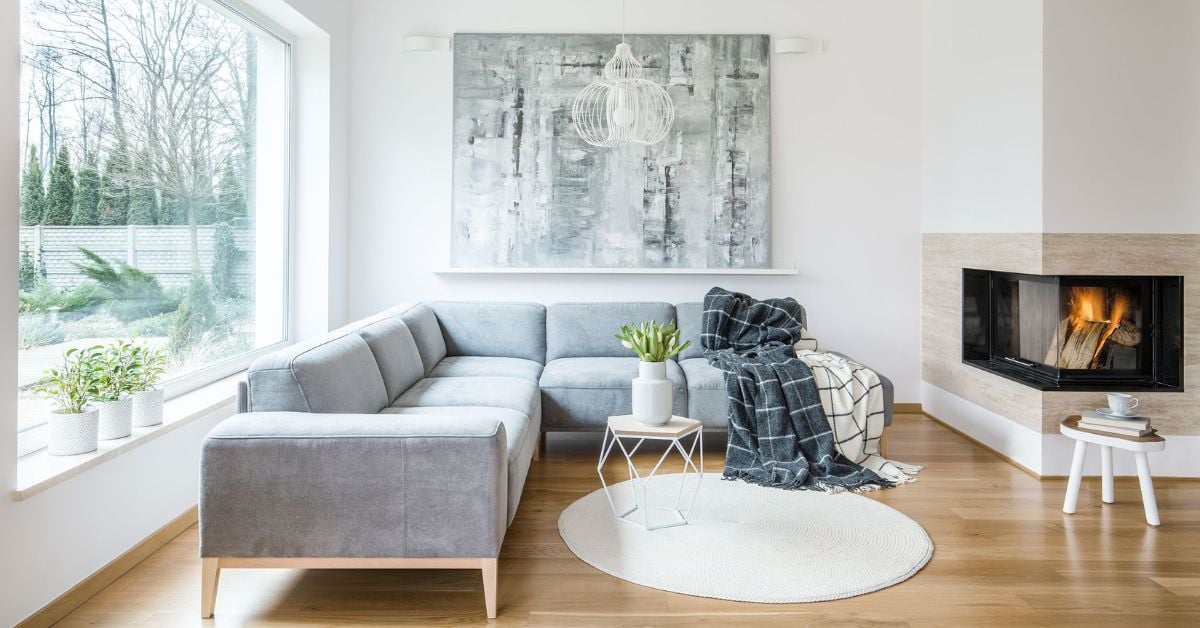 When it comes to selling a home, there is a common understanding that winter isn't the ideal time to go to market. Think cold days, dark afternoons, rainy weather and lacklustre looking gardens.
However, it's important to remember that people look for property to buy at all times of the year. With this in mind, there are even benefits to selling a house in winter. In this blog post, we share 10 tips for selling your home in winter with a hot price, no matter the cold weather.
How the seasons can positively and negatively impact the process of selling your home
There are a lot of different factors that go into selling a home. In fact, the home's appearance and its ability to meet seasonal demands go hand in hand. For example, when the sun is shining in spring, the gardens are in immaculate condition and the home feels warm.
In winter, the sun is hiding behind the clouds, casting a dark, dreary glow and cold feeling throughout the home. Meanwhile the garden is reduced to a muddy mess due to periods of high rainfall.
This appearance and general feeling of dreariness make it exponentially harder to sell a home. However, it's important to remember that buyers looking for homes during winter are extremely motivated. They will brave the conditions if your home is worth seeing.
10 tips for putting a house on the market in winter
Selling a house is an extremely involved endeavour. This is true whether selling in summer, autumn, winter or spring. However, when choosing to sell in winter, there are some added tasks that homeowners should complete.
By making sure that your home shines no matter the outdoor conditions, you can create an aesthetic that is inviting and therefore appealing to buyers. Combine this with a few selling strategies and you can effectively sell your home even in the depths of winter.
1. Make sure it is ready for warm living
2. Keep your home clean
3. Make the most of the great outdoors
4. Brighten the space
5. Pay attention to your windows
It's important to show potential buyers how your home can withstand winter conditions. By keeping windows clean and tidy, you not only brighten up the space but offer an enticing glimpse into your home.
By making sure that windows are clean and blemish free, you are allowing more warmth and light into the home, two factors that potential buyers will definitely notice. Additionally, clean windows add to curb appeal.
When driving up to a property, the ability to see lights aglow within the house is essentially enticing the buyers to come inside. This helps to create an instant connection with buyers, something that is key to sealing the deal.
6. Check your timing
7. Show off your home's strengths
8. Offer flexible showings
Winter days offer limited hours of daylight. Therefore in order to make the most of the conditions, it's important to offer flexible showings. This could mean that during the week you have open houses starting at midday in addition to open houses scheduled on the weekend.
By being flexible with showing times you are accommodating a wide range of sellers. Multiple opens means that people who work, attend activities or have children can find a time that suits them to attend your open house.
While accommodating a buyer's schedule, this flexibility has benefits for the seller. Namely, by opening your house up to more potential buyers, you can increase the chance of a successful sale.
9. Utilise virtual tours
One of the barriers to selling a home in the winter is the associated weather conditions. Oftentimes the winter season is complete with wind, rain and cold air. All of which work together to put potential buyers off attending open houses.
By offering virtual tours you can overcome common barriers to selling in winter. There are even added benefits to consider. Firstly, a potential buyer who watches the virtual tour and wants to arrange an in-person inspection is more than likely a serious proposition.
Secondly, the ability to offer virtual tours broadens the pool of buyers for your home. Some people might not be interested in viewing your home because of locational issues so view the tour instead. By increasing the market for your home, the chances of selling also increase.
10. Collaborate with a local real estate agent
A great tip for selling a home during winter is to collaborate with a local real estate agent. Someone with experience will be able to properly guide you through preparing your home for sale and eventually selling.
This experience helps you identify the challenges and advantages associated with selling in winter. Thanks to this inherent market knowledge, you can make sure that you are not only presenting your home in the best way possible but also employing great selling strategies.
Selling your home in winter
Selling your home can often feel overwhelming, especially when contending with winter conditions ranging from cold days and dark afternoons to rainy conditions and high winds. However, there are simple tricks and tips that you can employ to make your home standout and your selling strategy more effective.
Following our 10 tips for selling your home in the winter should help you maximise your final sale price. However, don't hesitate to get in touch with your local LJ Hooker real estate agent or book a free property appraisal to know more about how to make your property stand out from the crowd and make yourself a fantastic sale.
Share