Making a Hanging Pendant Light With Geneva Vanderzeil
Geneva Vanderzeil
| 2 mins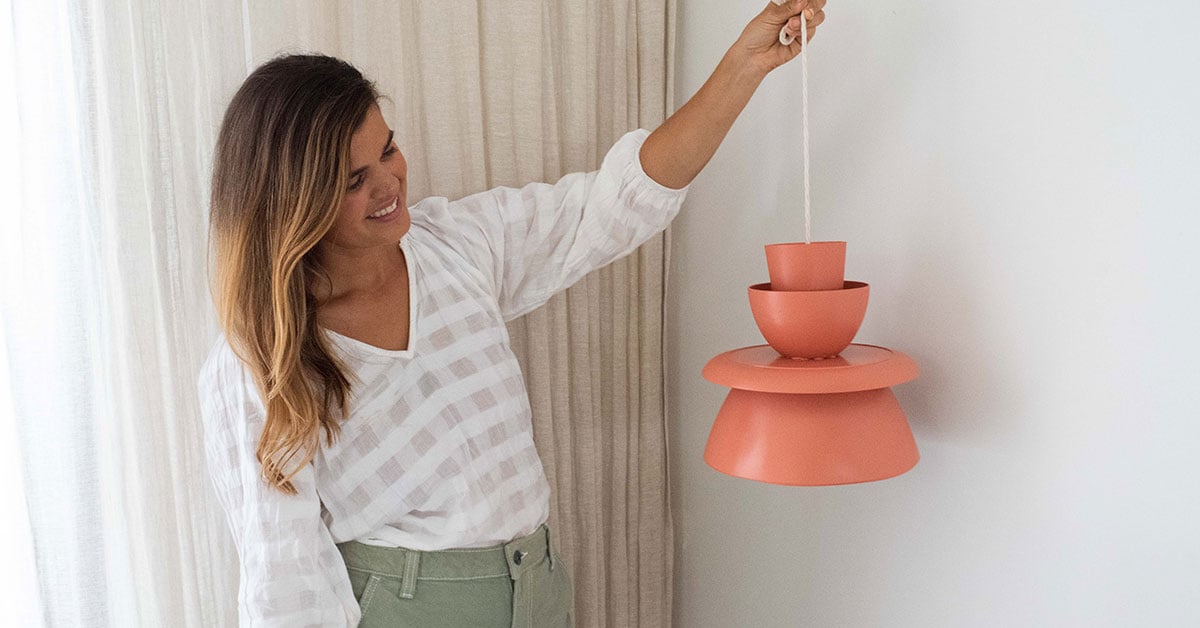 There is nothing like making something stylish for your interior using pieces you may already have at home. These retro-inspired pendant lights are fun, versatile and practical. It will add a little colour to a lounge room, kitchen or bedroom. And you won't believe just how quick they are to make!
What you need
To make these pendant lights, you will need:
Bowls, plates and cups in various sizes made from plastic
A pendant light electrical cord (you can buy one online)
Spray paint
A drill
A round-cutting drill bit

Approximate time: 1.5 hour (excluding drying time)
Difficulty: ★★☆☆☆
The project step by step
Step #1
Start by drilling a hole in the base of your plates and bowls. I'm using a vice to hold each item to ensure it doesn't move while I'm drilling.
Step #2
Spray them a colour. I've gone with soft olive, pink and blue for my project.
Step #3
Once your pieces are dry, it is time to assemble your pendant light. You can sort them in any design formation. I've placed a cup inside a bowl, with another plate and bowl underneath. Don't be afraid to try different shapes.
Step #4
Unscrew the pendant light cord and slip it through the bowls and plate. Once it is in place, screw the ring on the other side to secure it. And add a light bulb.
Step #5
The only thing left to do is to hang up your pendant light and turn it on!
This is seriously such an easy project to do and it is a great way to add a little lighting mood to the interior of your home.
You can see the video of this project's step-by-step here. And for more inspiration, DIY projects and styling tips, don't forget to follow our Instagram account!
DISCLAIMER - The information provided is for guidance and informational purposes only and does not replace independent business, legal and financial advice which we strongly recommend. Whilst the information is considered true and correct at the date of publication, changes in circumstances after the time of publication may impact the accuracy of the information provided. LJ Hooker will not accept responsibility or liability for any reliance on the blog information, including but not limited to, the accuracy, currency or completeness of any information or links.
Share