How to Create a Feature Wall With Shannon Vos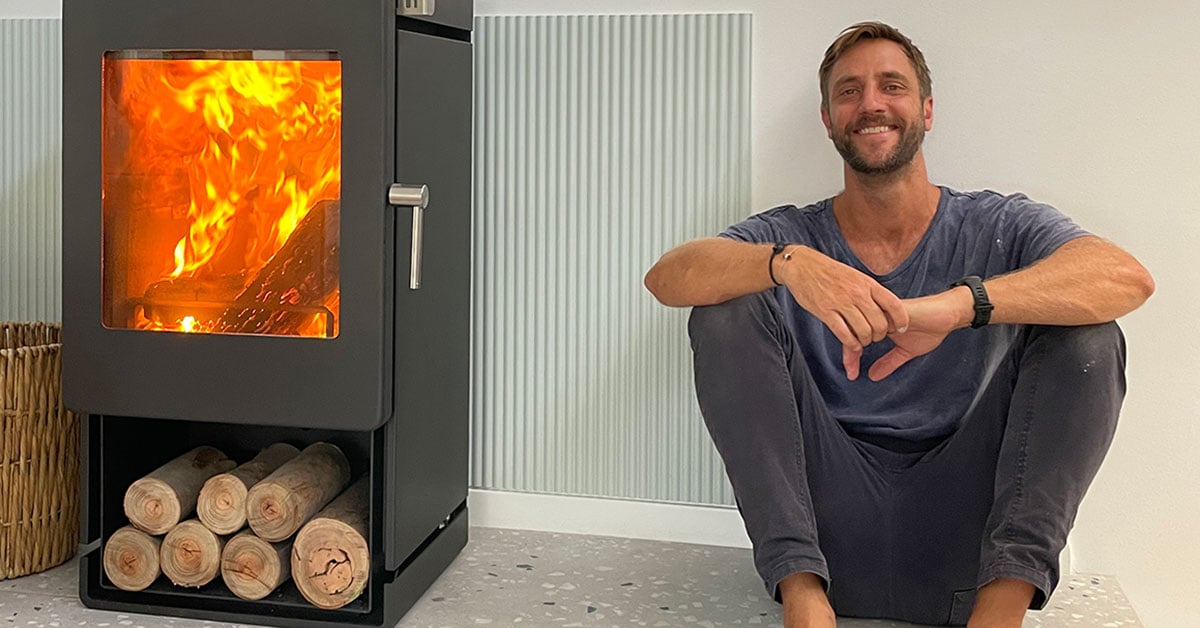 A feature wall is a great addition to an interior, but choosing a colour or design can sometimes be hit-and-miss. I'm going to show you how to create one that brings plenty of character to your space and has an architectural element. You are going to love this one...
What you need
To make a feature wall, you will need:
A ready-made wall lining panel made from MDF panels
Small drill
Spacer
Glue
Spirit Level
Nails
Nail punch

Approximate time: 3 hours
Difficulty: ★★★☆☆
The project step by step
Step #1
First establish where you want to create a feature wall. If you are making a bedhead you could probably go from wall to wall. I want to create a cosy corner for my project, so will be zoning an area for our feature wall.
Step #2
Next step is to clear the space – which in this instance, means removing the combustion fireplace temporarily.
Step #3
MDF panels are super DIY friendly! Before we secure our panels to the wall, we need to find where the timber studs are located. You can do this by knocking on the wall and using a small drill to check if you hit any timber. Don't worry about any holes as we will be covering these up. Put a marker on the floor or skirting boards so we can find the timber studs later.
Step #4 – Measure and cut your first piece of MDF.
Step #5 – It is a good idea to pre-paint the top edge as this means you don't have to do it later when it is on the wall.
Step #6
Simply glue the back of the first panel and sit that in place. I am using spacers to keep the panels slightly away from the skirting boards.
Step #7
Once the panel is where we want it to be, we can nail it in place using the stud markings on the floor. I'm nailing these in the grooves that line up with the markers. I'm not going all the way in because I need a little bit of play to fit the next one.
Step # 8
Grab the next panel, glue and install using the spacers at the bottom to keep it level. Use a joining strip to connect to the other panel and push it in tightly. Check it is level on the top and nail it off. You can repeat this process for as long as you want to go.
Step #9
I'm slipping a small 8mm tile angle that hides the exposed groove edge and will keep things neat.
Step #10
Then we are going to drive the nails in with a nail punch to seal the deal. Fill the nail holes with some putty or filler and give it a few coats of paint.
A splash of colour really lifts this zone and these panels look great in this space and in any other room. I've added value, character and interest to my home. Give it a go yourself.
You can see the video of this project's step-by-step here. And for more inspiration, DIY projects and styling tips, don't forget to follow our Instagram account!
DISCLAIMER - The information provided is for guidance and informational purposes only and does not replace independent business, legal and financial advice which we strongly recommend. Whilst the information is considered true and correct at the date of publication, changes in circumstances after the time of publication may impact the accuracy of the information provided. LJ Hooker will not accept responsibility or liability for any reliance on the blog information, including but not limited to, the accuracy, currency or completeness of any information or links.
Share