Moving Out? Here's a Guide to Buying Furniture for Moving In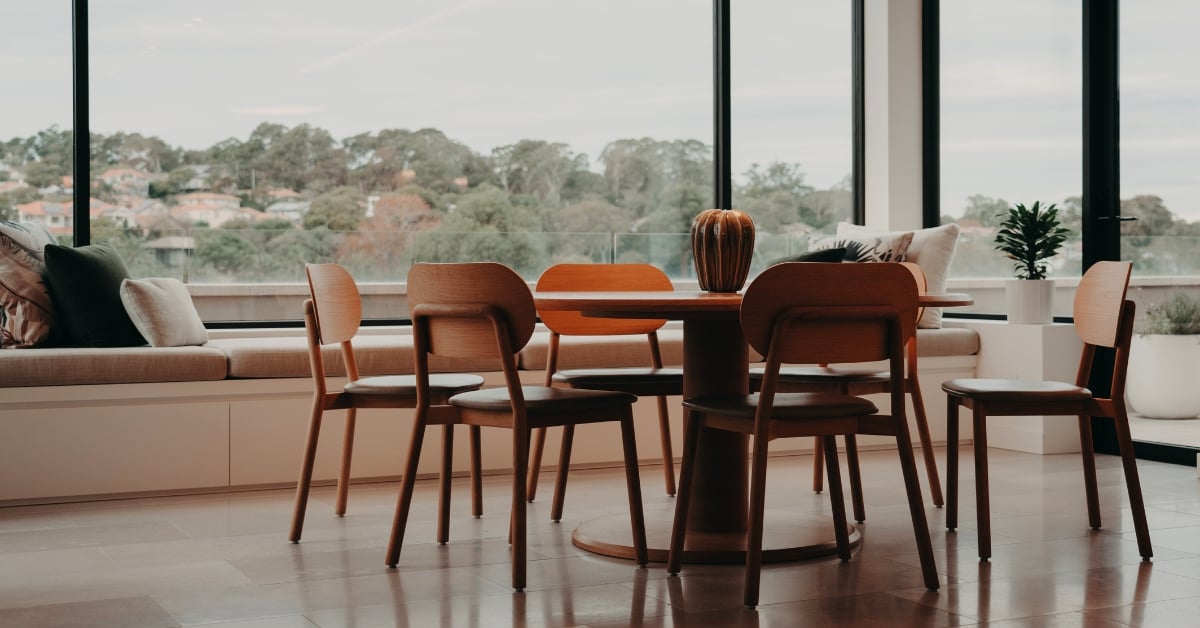 Choosing furniture for a new house? If so, this furniture-buying guide for new homes is for you!
While moving into a new home is exciting, there is also a lot to consider. Staring into large, empty rooms and blank walls can be daunting. In many ways, your new home doesn't quite feel like home just yet – especially without your personal touch.
Furnishing and styling a new home gives you the chance to put your unique stamp on it and create a sanctuary that truly feels your own. Keep the following tips in mind when buying furniture for your new home so that you can turn a new house into your dream space.
1. Make a furniture checklist
Before you step into any old shop and begin choosing furniture for your new house, it's worth taking time to create a furniture wish list. Planning an attractive, welcoming yet functional new home requires going from room to room and deciding which furniture pieces you really need. It's easy to get carried away and want to decorate your interior with all sorts of décor and decorations. But this can wait. Your first step is to get your furniture must-haves and then you can go back and revisit your interior decorating.
2. Measure your space
Measuring your room dimensions is crucial before buying new furniture. Without taking down measurements, you run the risk of getting a furniture item that doesn't fit or that looks out of place.
Take a look at your living room and determine where you would like to position a lounge suite. Then, get your measuring tape and measure the length of the wall and the space around the area to ensure you choose a sofa that won't overbear the room. Similarly, measure your bedroom prior to deciding on a bed, as you may find the King size bed you are dreaming of will leave very little space to move around the room. Keep all these measurements handy and bring them with you when you do go to the furniture store.
3. Follow a colour palette
While you should personalise each room in the house how you see fit, it's best to stick to a cohesive colour palette throughout to create flow and harmony. Think about the overall style or vibe you'd like your new home to have. What colours are you naturally drawn to? Do you want to keep your home interior predominantly white but add splashes of colour with a feature piece?
One of the easiest ways to colour coordinate your furniture is by choosing three colours: a main colour, a secondary colour, and an accent hue. This is known as the 60-30-10 rule and is a concept used by interior designers to create balance.
4. Get inspiration
Look through furniture magazines, blogs, furniture websites, and apps such as Pinterest to get inspiration to help you choose your new home furniture. Or take inspiration from our home staging tips! An easy way to pick the right furniture for your new house is to choose pieces that are in keeping with your home's style. For example, if you have a beach house then look for Hampton-style furniture and décor. If you have a modern home, browse contemporary furniture and modern home interior ideas. Keep in mind that high-quality, modern furniture has the ability to last years without looking out of style.
5. Set a budget
Setting a budget for new furniture shopping will help you to narrow down your options and keep you from overspending. The average cost to furnish a new house is around $16,000. However it can be much lower than this, or higher, depending on where you shop, the quality and craftsmanship of the item, and whether it is off-the-shelf or made-to-order. If you are on a tight budget, consider furniture outlets, secondhand furniture stores, or flat-pack furniture that you assemble yourself. It's also a good idea to price compare and visit a handful of stores (both in-person and online) to ensure you're getting the best deal.
6. Decide on the quality of furniture you need
It's always best to invest in high-quality functional furniture that will stand the test of time. However, to avoid spending more than you should, determine which pieces you need to be of high-quality, and which pieces you can get away with lower-quality features. For example, it's likely you spend a lot of time on your couch relaxing. Therefore, it pays to invest in a higher-quality sofa that features solid construction and durable materials such as leather. On the other hand, if you are needing furniture for a guest room then you can afford to purchase items that are lower quality due to the fact they won't be going through as much wear and tear.
7. Don't buy everything all at once
Since this is a new home, you may be tempted to buy everything all at once. If you do this, however, you may experience buyer's remorse later on. Remember that it takes time to thoughtfully furnish and dress your home. Try to think of it as a long-term project. Start off by getting your essential items like your sofa, bed and dining table, and then begin picking those other extra items along the way. This allows you to save money and really finesse your home's style and interior design.
A little bit of pre-planning is all you need to choose the right furniture for your new home. Try not to get carried away by haste, to begin with. While it's exciting to be decorating a completely untouched space, there is the risk of making impulse purchases that you may regret later on. Being clear on your style preferences and your needs including your measurement requirements, budget, and furniture quality will help you make a more informed choice. So, armed with your list, visit furniture shops and make a note of the items you like the best and then meditate on them for a few days prior to committing to buying.
DISCLAIMER - The information provided is for guidance and informational purposes only and does not replace independent business, legal and financial advice which we strongly recommend. Whilst the information is considered true and correct at the date of publication, changes in circumstances after the time of publication may impact the accuracy of the information provided. LJ Hooker will not accept responsibility or liability for any reliance on the blog information, including but not limited to, the accuracy, currency or completeness of any information or links.
Share