Shannon Vos: "Start Small, Be Creative and Build Your Way Up"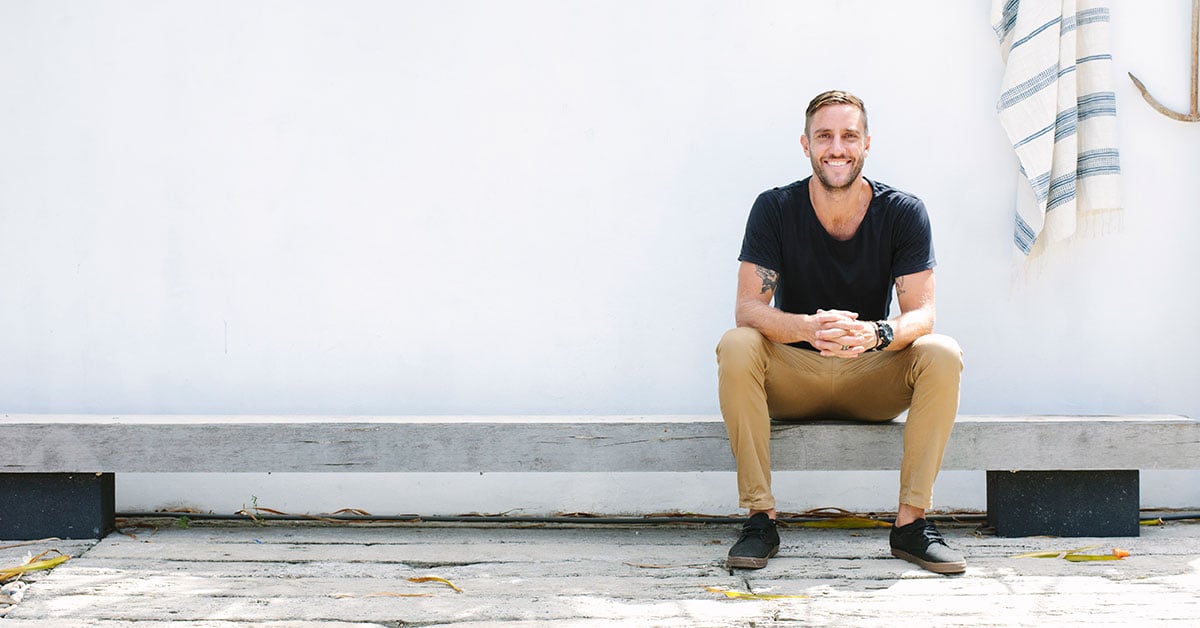 Meet LJ Hooker's new ambassador, Shannon Vos. Shannon is known for having won The Block Glasshouse with his brother Simon in 2014. Since then, the tradie turned interior design consultant worked on hundreds of renovation projects, including his own home, where he lives with his wife and two young boys.

Twice a month on our Instagram account, he will share his tips and easy projects to renovate or simply add value to your home.
Many people know you as the winner of The Block with your brother Simon, but could you share a bit about your background and how you became an interior designer?
I've always had a passion for design. I studied it through high school, and after finishing a trade, I travelled for 10 years, staring up at and into buildings all across the globe.
I love adventure, anything outside and anything in the water. Just before The Block, I had a sort of midlife crisis where I realised I needed to use my brain a bit more, and painting is not an old man's game. I moved to the big smoke and put myself through design college, graduating with distinctions. Then it was onto The Block, a shake of the champagne bottle at the end and a whirlwind of adventure since.
I write, design, and create content for the real estate and the home market. I'm a sleep-deprived dad of two endlessly energetic boys anchored by a brilliant and long-suffering wife. We're now near the end of a two-year renovation.
How would you describe your interior design style, and who does it appeal to?
I think it's always evolving. Before kids, it was very eclectic and a bit global, but now if I can look at my home and not see lego thrown all over the house, it's a win.

I love minimalistic, earthy-toned, character-filled spaces. But this doesn't always work with kids, so I am super practical and realistic in my design approach. I love a nod to a forgotten era and believe a home MUST be full of plants and artwork.
What attracted you to partner with a brand like LJ Hooker?
I have always been a fan of the LJ Hooker brand. I remember the 'Thank You Mr Hooker' ads from the 90s and the way the family unit was always a major theme for the company.

I treasure my family like nothing else, and it's this ethos, as well as our passion for home improvement and renovation, that's inevitably brought us together.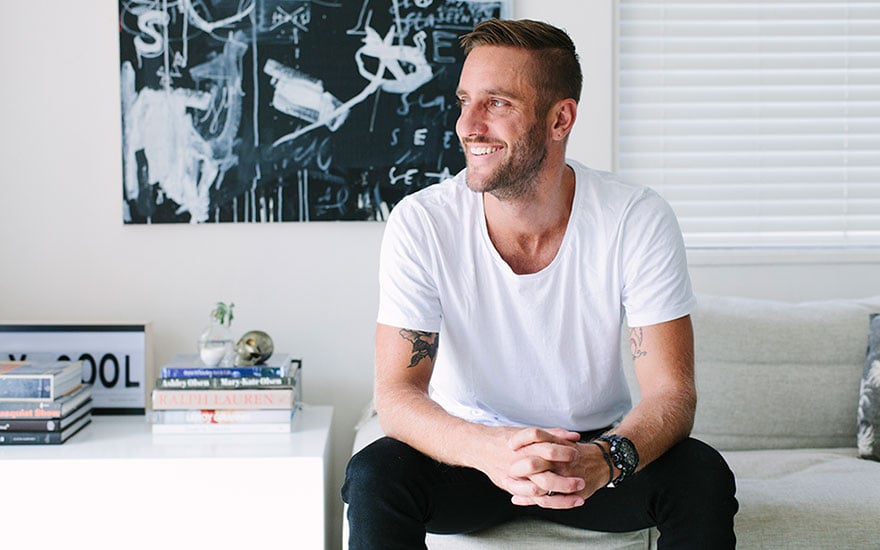 What type of content can we expect to see from you?
I love having a go, and whilst it might not always go to plan, I am a stickler for sticking out a job until the end and finding a solution to an all too familiar problem. I love renovating, humour, and creating something unexpected. I usually get injured along the way, so we're in for some fun.
What are the big interior design trends?
After the last couple of crazy years, I think homeowners want to come home to a space of retreat, disconnection, and peace. Natural tones, textures, colours, and materials will be popular, but so will the reduction of clutter and un-necessity in our lives.

We want simpler lives, and our homes should reflect that. Health and well-being will be at the top of the list, so spaces that promote wellness and mindfulness will be most considered, oh and storage for all the bloody lego!
Have you seen a big change in the relationship people have with their home since Covid hit?
Definitely. We are all working from our homes more, and the fridge door has never seen so much action. I'm speaking for everyone, right? But, as such, we're tending away from the open plan aesthetic and preferring homes that offer seclusion and privacy. The favourite spaces offer fresh air and plenty of sunlight, and we're looking to strengths in our own communities rather than the commute to the busy centres.
What is your favourite kind of project and why?
I love a bathroom renovation. I love planning the space; there's not too much pressure on decorative touches and furniture. It's all quite utilitarian, but there is plenty of opportunity for softness and subtlety in the space. In terms of DIY, I love anything that stands out and is a value add to the home. Our homes are our greatest investments (sorry kids), so anything that can add value to that is a step in the right direction.
What makes a home feel like home?
Art on the walls, oversized rugs, plants plants plants, a familiar smile and the lego put in its place. It's a simple formula.
How has your real estate journey been so far? You mentioned a two-year renovation project.
It's been a journey of dust and slow progress. Juggling work, kids, homeschooling, trade management, my stubbornness to try every job myself and the fact that we didn't move out has been, let's say, 'character building'.

With my latest reno, we started with the outside of the build, and as I wanted to avoid any major works, we stuck to jobs that didn't need minimal council approval. We renovated the pool (it is amahhhhhhzing), the deck and the exterior of the home.

Our boys live outside, so this was our number one priority. Then we moved inside and started to tackle room by room to minimise the impact made on the family. The painting was a huge effort with 4-metre high vaulted ceilings, and once the lighting and painting were tackled, we moved out whilst the floors we replaced. We're just finishing off the last space now, and though it has been over two years, it's amazing to look back at the huge amount of work we have accomplished.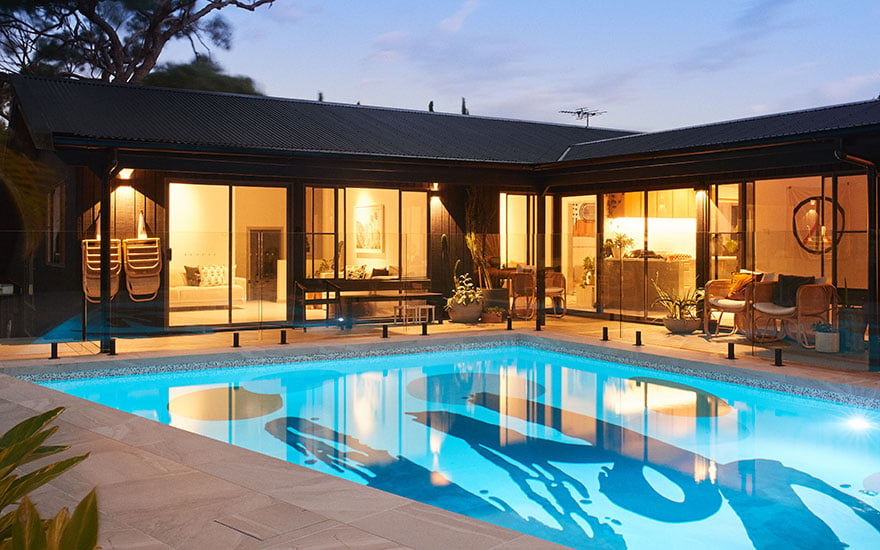 What do you look for when looking for a home?
Versatility, natural light and location. Nothing changes a space like sunlight, and the grandest of homes can feel cold and empty without the sun's rays.
What tips would you give people selling a property when it comes to adding value, whether by renovating or styling?
Keep it simple. New paint, clean floors and a sunny day will win over most sticky-beakers at an open house. So clean up the clutter and create an empty canvas in which any potential buyer could see themselves stamping their style within their soon-to-be home.
Some people might shy away from giving DIY renovations or even home styling a go. What would you tell them?
Start small, be creative and build your way up. YouTube University can be a great resource but don't tackle anything you feel overwhelmed by. Stay away from electrical work (like legally speaking), and make sure you always have a safe work environment. Have fun, half the joy is learning along the way. The other half? Gloating about your accomplishments!
To get some inspiration for your home, tackle easy renovation projects or get Shannon Vos' best tips to add value to your property, head to our Instagram account.
DISCLAIMER - The information provided is for guidance and informational purposes only and does not replace independent business, legal and financial advice which we strongly recommend. Whilst the information is considered true and correct at the date of publication, changes in circumstances after the time of publication may impact the accuracy of the information provided. LJ Hooker will not accept responsibility or liability for any reliance on the blog information, including but not limited to, the accuracy, currency or completeness of any information or links.
Share