Step by Step Guide to Selling Your Property

Selling a Property
If you are looking at selling your property, understanding the steps involved is very important. To help you navigate the process, here is an easy to understand infographic that will walk you through the 14 key steps to selling your home.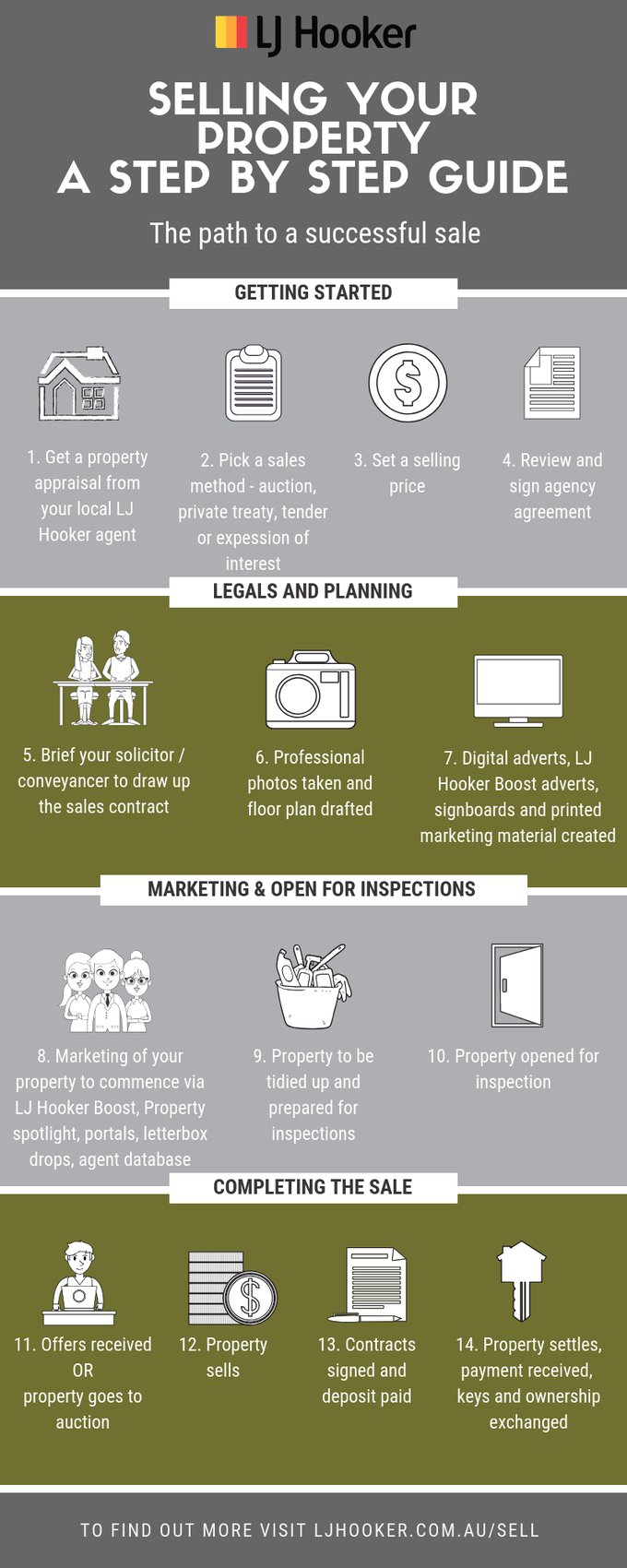 Property Appraisal
The first step to selling residential real estate is to get a LJ Hooker real estate agent to appraise your property.
Your local LJ Hooker real estate agent specializes in answering the 'how much is my home worth' question and they do it by running a comparative market analysis which involves finding similar properties that sold within the last few months. The closer they are able to match your property to others sold in the area, the more accurate the appraisal will be. Agents also consider current competition, wider market trends, the properties structure and condition. Property appraisals are an excellent way of understanding your properties potential market value at that point in time.
Choose your method of sale & set a selling price
There are 4 main ways to sell your property and your agent will be able to help guide you as to which is the best for you and your property. The options to choose from include Auction, Private Treaty, Tender and Expression of Interest. It is also time to determine a selling price. This should be based on your property appraisal and in-depth discussion with your agent.
Review and sign the agency agreement
As a homeowner looking to sell, you'll need to sign an agency agreement. A normal agreement between a vendor and a real estate agent is 90 days.

You will also need to provide your real estate agent with keys and access details and lock in weekly the open for inspection times. Normally there are 2 open homes, one during the mid week and the other on Saturday mornings. Typically, homeowners won't stick around during open homes.
Marketing Your Property
Now comes the time to promote your property to as many willing buyers as possible.

In order to first attract their attention, professional photos will need to be taken of the property. Your real estate agent will organize this and will ensure a floor plans and professional copy writing is completed.

Your LJ Hooker agent will run an extensive marketing campaign to reach as broad a range of potential buyers as possible. The marketing campaign will be discussed and agreed with you, but for best results you should look at promotion via the LJ Hooker Boost program, on the real estate portals such as realestate.com.au and domain.com.au, house signboard, printed material including print advertisements in newspapers and letter box drops, plus agent database marketing.
Open for inspections
Open inspections allow potential buyers to get a feel for the home. Make sure you spend time tiding up and preparing your home for inspection as you want to ensure your property makes a great impression on potential buyers. Your agent will record the details of attendees and provide comments and feedback to you.
When you get a willing buyer, you move onto the next step.
Negotiation and Contract
If you are selling via private treaty, tender or expression of interest, you will receive offers via your agent. They will discuss these with you and then negotiate to get the best price and conditions of sale for you.

If you are selling via auction, your property will be taken to auction. An auction is a public sale, usually conducted by an auctioneer or a qualified real estate agent and is governed by strict rules. It is advertised for a specific place, time and date and prospective buyers bid for the property with the property being sold to the highest bidder.

Once terms are agreed upon, contracts are signed and the buyers will pay a security deposit which is normally 10% of the sale price. If you sell your property via auction, there is no cooling off period, the successful bidder is legally obliged to buy the property.
Property Settlement
Property settlement is the process of transferring property from one owner to another - it is literally when ownership of a property is handed over from the seller to the buyer.

The date of settlement is specified in the contract of sale and is usually 30 - 90 days after you have exchanged contracts either at auction or via private treaty.

As settlement day approaches, both the buyer and seller's solicitors or conveyancers, will contact each other to ensure conditions have been fulfilled and to organise payment transfers. You won't need to actually be present for settlement to go ahead, as the solicitors/ conveyancers can do this without you.

Settlement day is when the buyer's lender authorises the payment for the balance of the home. This means you can expect to receive payment for the property on this date.

The buyer and their solicitor will also organise the deposit to be transferred to you. This deposit is usually held in a trust account by your real estate agency until settlement day.

On this day, the seller transfers the property title (handover) across to the new registered owner and the new owner takes possession of the property by way of keys being given to the new owner. This is normally facilitated by your conveyancer or solicitor who passes them onto the buyer's solicitor.

This means you'll need to be fully moved out before settlement day to ensure the home is ready for the new owners.
Get started on selling your home with a free property appraisal from LJ Hooker
Book an appraisal
Share